On Saturday afternoon, the wet snow piled in the mountains of the Loveland Pass gave way, creating a fatal avalanche.
Adding to the already 19 deaths by avalanches during the 2012-13 winter season, five people were trapped and killed on Saturday.
A sixth snowboarder managed to escape the snow and go to get help.
Despite now being in the latter half of April, the slopes definitely don't look like it out in Colorado.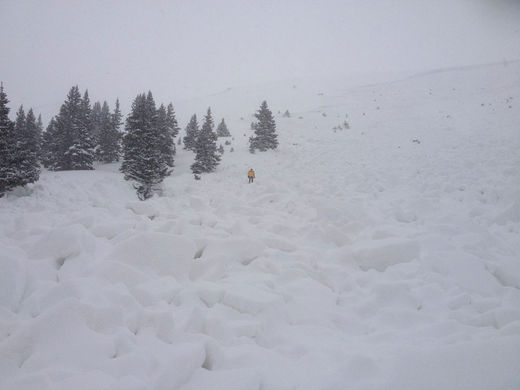 Colorado Avalanche Information Center
executive director Ethan Greene said "We are very much in a winter snowpack right now.
The calendar may say it's April, but the snowpack looks more like February..."
That is due to the heavy snow that Colorado has seen for the start of spring, making it still feel like winter.
Gusting winds following the heavy, wet snow of these storms has risen the avalanche danger in the central Rockies, which is typically uncommon for this time of the year.
The last avalanche to cause this many deaths was back in 1962, when seven people were killed at Twin Lakes in January.