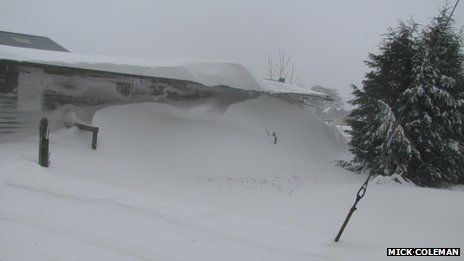 Two landlords trapped in their pubs by snow - one of them for five days - are among Derbyshire traders counting the cost of the Easter blizzard.
Areas of the Peak District suffered snow drifts of up to 20ft (6m), blocking roads and buildings.
One pub and caravan site estimates it lost £10,000 over Easter because of the weather while another owner had to use a coal shovel to dig himself out.
With the weather finally warming, small firms hope life can return to normal.
The Bull i' th' Thorn pub, between Buxton and Ashbourne, was closed to visitors for six days with the owner Mick Coleman trapped inside for five of those.
He was looking forward to one his busiest weeks ever at the pub and estimates his losses at about £5,000 - but he is just relieved to have made it out.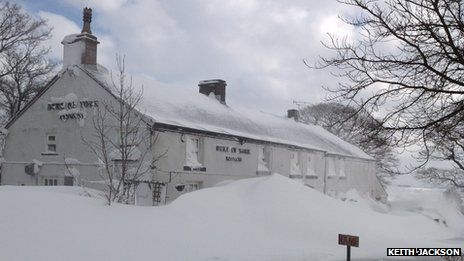 Meanwhile, the nearby Duke of York pub, in Pomeroy, believes it lost about £10,000 over the Easter period because of the weather and it still can not take bookings for its caravan site.
"It was frightening. It was totally black downstairs because the snow covered the front of the building," Mr Coleman said.
"I had to dig myself out with a little coal shovel because my spade was in an outhouse.
"Thankfully, because it's a pub, there were plenty of supplies and the power stayed on. It's every man's dream being trapped in a pub."
'Very eerie'
Mr Coleman was not alone trapped on the tops.
Co-owner of the Duke of York pub Keith Jackson was also stuck in his building and said the snow came down faster than anyone expected.
The main road between Ashbourne and Buxton, the A515, was blocked for several days
He was trapped for a day and his chef Ian King could not get home for several days after that.
"It's very eerie in the pub because the snow is covering the windows making it very dark," he said.
"But it's devastating for us. We were expecting to be very busy because of the Easter holidays.
"And it's not just us, it is hitting the whole local economy."
Both pubs re-opened in time for the extended Bank Holiday but the remaining snow on the ground continues to hit business.
Mr Coleman said he hoped this year's weather would eventually prove better than 2012's.
He said: "I've been here for 18 months. We had a dreadful summer last year which really hurt business and now this snow.
"It's a fabulous place to live but it's difficult to make a living."