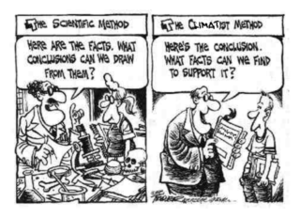 This an excellent paper (PDF) from Dick Lindzen, published in 2010, and roundly ignored by the people who need to read it and think about it most:
Abstract
For a variety of inter-related cultural, organizational, and political reasons, progress in climate science and the actual solution of scientific problems in this field have moved at a much slower rate than would normally be possible. Not all these factors are unique to climate science, but the heavy influence of politics has served to amplify the role of the other factors. By cultural factors, I primarily refer to the change in the scientific paradigm from a dialectic opposition between theory and observation to an emphasis on simulation and observational programs.
The latter serves to almost eliminate the dialectical focus of the former. Whereas the former had the potential for convergence, the latter is much less effective. The institutional factor has many components. One is the inordinate growth of administration in universities and the consequent increase in importance of grant overhead. This leads to an emphasis on large programs that never end.
Another is the hierarchical nature of formal scientific organizations whereby a small executive council can speak on behalf of thousands of scientists as well as govern the distribution of 'carrots and sticks' whereby reputations are made and broken.
The above factors are all amplified by the need for government funding.
When an issue becomes a vital part of a political agenda, as is the case with climate, then the politically desired position becomes a goal rather than a consequence of scientific research.
This paper will deal with the origin of the cultural changes and with specific examples of the operation and interaction of these factors. In particular, we will show how political bodies act to control scientific institutions, how scientists adjust both data and even theory to accommodate politically correct positions, and how opposition to these positions is disposed of.