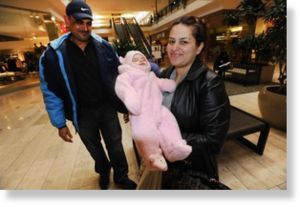 New York - Staten Island's Community Education Council is on record supporting a proposal to hire 300 to 500 retired police officers to serve as plainclothes security guards, carrying concealed weapons and rotating among the city's 1,750 schools.
The 10-member council's vote on Monday night only has the power to make a recommendation to the New York City Department of Education, which means the proposal has little chance of becoming reality.
The department said it will not consider the plan, and Mayor Michael Bloomberg, one of the nation's most outspoken gun-control advocates, last week called it a "terrible idea."
The proposal passed after two hours of comments, for and against, from parents and other speakers from the community and was in reaction to the deadly elementary school shooting in Newtown, Conn., last month that killed 20 first-graders and six educators.
The proposal also calls for hardened security, including a buzzer system with video cameras and panic buttons, similar to those in banks, that link directly to 911 for use by school safety agents screening visitors entering schools.
Currently, school safety agents, part of the New York Police Department's Schools Safety Division, are not armed. They staff schools and entrances to check photo ID and sign in any visitors. They also help monitor for safety. If there is a criminal or violent incident, the NYPD is called.
There are 10 schools that are patrolled by armed police officers as part of a special program - none on Staten Island - but school officials say that is not representative of the school system as a whole.
The NYPD hasn't responded to questions about the use of retired officers being used to patrol schools. According to the proposal, the officers would be hired as independent contractors at no extra cost to the city.
Source: The Associated Press