As much as 40 centimetres of snow expected from 'significant nor'easter'.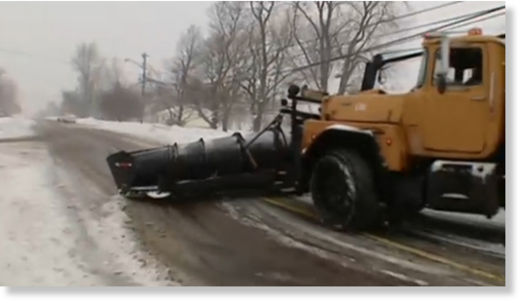 With another blast of winter weather headed for Atlantic Canada, people are being urged to prepare for a lot of snow throughout the Maritimes and up to 140 km/h wind gusts in Newfoundland.
The storm is expected to start Saturday night in Nova Scotia, New Brunswick and P.E.I.
Nova Scotia may see 40 centimetres of snow by Sunday night in the province's north and the Annapolis Valley.
Meteorologist Andy Firth said the nor'easter would bring snow, blowing snow and rain to Nova Scotia and Prince Edward Island, as well as southern and eastern New Brunswick.
"This is a significant nor'easter storm," Firth said from Dartmouth, N.S., on Saturday. "We have warnings out for snowfall, blowing snow and storm surges."
Firth said parts of New Brunswick and P.E.I. would see around 15 to 30 centimetres of snow.
Flurries were expected to begin over the western Maritimes on Saturday evening, with heavy snow beginning around midnight and continuing until around noon Sunday.
Wind warnings
Wind warnings were in effect for northern Nova Scotia, with gusts of 90 km/h expected Sunday morning.
Storm surge warnings had also been issued for northern Nova Scotia and along the southern Gulf of St. Lawrence, where high water levels and strong winds were expected to produce pounding surf.
Firth said the low pressure system was expected to be south of Nova Scotia early Sunday and would intensify as it tracks eastward up the province's Atlantic coast toward Cape Breton.
From there, the storm was expected to sweep toward Newfoundland and Labrador, with winds gusting to about 140 km/h in western Newfoundland on Sunday afternoon.
Environment Canada said a brief band of heavy snow was forecasted to cross central and western Newfoundland Sunday, with snowfall amounts ranging from 10 to 15 centimetres.
The storm prompted Nova Scotia's Halifax Stanfield International Airport to issue a warning that flights may be delayed.
Bus travellers warned to prepare
Motorists are being advised to use extreme caution or to stay off the roads completely.
The owner of P.E.I.-based Maritime Bus, Mike Cassidy, said bus travellers should be prepared in case the weather makes it impossible for buses to continue running.
"When it comes to a major storm, we have a policy and we tell our passengers, 'Please, we could be running into a pending storm, make sure you have extra cash, make sure you have a credit card because we could stop and you may have to get your own accommodations and your own meals,' " said Cassidy.
He said safety is the company's first priority.
"Especially when your hear about the storm hitting the Maritimes yesterday and today, all of our staff, all of our terminals and agencies are [on] what we call 'Storm Alert' where we are watching the storm," said Cassidy.
"We can only travel when we determine that the roads are safe. So when you have a pending storm, naturally, compliance and safety is our number one concern."
Nova Scotia Power preparing for potential outages
The approaching winter storm will likely cause power outages. David Rhodenizer, a spokesperson for Nova Scotia Power, said the utility has extra personnel on hand to deal with the aftermath.
"We'll have more than 170 power line technicians from Nova Scotia Power, plus we're bringing in 20 from Emera Utility Services, as well as 20 coming in from New Brunswick just to be prepared for the storm that's coming," he said.
"As well we've got about 50 vegetation workers, those are the people who trim trees, cut back fallen limbs, or take care of trees that fall down in storms."
Rhodenizer said the crews are distributed around the province and the power company is monitoring the storm closely.
Ferries delayed
High winds forecasted for the Cabot Strait have forced Marine Atlantic to issue crossing delays on Saturday.
North Sydney to Port aux Basques was rescheduled from a 12:15 p.m. AT departure time to 4 p.m. AT.
Port aux Basques to North Sydney, originally scheduled to depart at 11:45 p.m. NT, will now depart at 3:00 a.m. NT on Dec. 30.
Eastern Canada hit late last week
Eastern Canada had just finished cleaning up after being blasted by another winter storm late last week.
Parts of New Brunswick were hit with between 20 and 38 centimetres of snow and in some places freezing rain and rain.
That system then headed up to Newfoundland, where about 25 centimetres fell on the northeast coast and central parts of the island.