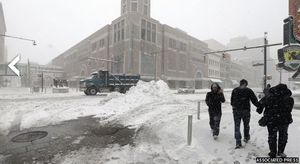 Winter Storm Euclid, by the time it departs New England Thursday night,
will have deposited snow from California's Sierra Nevada Mountains to New England
. Unfortunately, this occurred not only during the Christmas holiday, but also in the peak travel period after Christmas Day in the South, Midwest, and East.
After leaving behind up to six feet of snow in the Sierra Nevada on Saturday and Sunday, Euclid brought the Rockies a fresh blanket of snow on Christmas Eve.
Then, Euclid brought heavy snow to the South on Christmas Day, with up to a foot of snow in Arkansas and blizzard conditions reported in parts of Oklahoma and north Texas.
After dumping a swath of snow in parts of the Ohio Valley and eastern Great Lakes, Euclid is finishing up its long, snowy journey in the Northeast on Thursday.
Euclid's Northeast Mess Departing
Along the heavily-populated I-95 urban corridor, rain will finish up in New York City this morning. Boston will see rainfall continue into the afternoon hours.
Low clouds, wind and rain could lead to additional flight delays in the Northeast today.
On the wintry side, heavy snow will spread northward from northern New York to northern New England on Thursday. Snow totals of up to a foot or more are expected in these locations.
Another Snowstorm on the Horizon for Northeast?
As we head for the weekend, computer models are indicating that another storm system could bring more snow to the Northeast.
This time, the snow swath may target parts of the I-95 corridor, including Philadelphia, New York City and Boston.
Uncertainty remains with how much snowfall to expect since it depends on how the future storm system evolves over time.
Stay tuned for more updates on this potential weekend snow event in the Northeast.