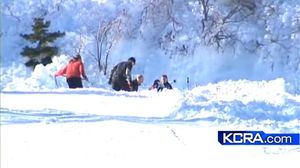 Because of deadly avalanches that killed a snowboarder and a ski patroller, the Sierra Avalanche Center issued a warning Tuesday about "considerable risk" of further slides. Two other skiers were injured in a separate avalanche.
Ski resorts, meanwhile, reported near-record snowfalls and brisk business.
The Avalanche Center advised skiers and hikers to choose their routes carefully, particularly on steep back-country terrain, said Marvin Boyd of the National Weather Service in Reno. He said the Sierra snowpack is weak and vulnerable to collapse after a snowfall of nearly 5 feet since Friday.
On Monday, the body of snowboarder Steven Mark Anderson, 49, a resident of Hirschdale near Truckee, was found by a Nevada County sheriff's search dog beneath 2 to 3 feet of snow at the Donner Ski Ranch.
Officers said Anderson was swept away by a "moderate" avalanche that struck Monday morning. He had been with friends who had taken separate paths and were unaware of his disappearance for nearly three hours, the Associated Press reported.
Another avalanche on Monday killed the ski patroller, who was part of a team inspecting the Sherwood Bowl area of Alpine Meadows, the resort reported. It said another member of the team tossed an explosive charge onto the slope as part of a safety check, but the ensuing avalanche was much larger than expected and buried the patroller, Bill Foster, a 28-year veteran of the resort's ski patrol.
Foster, 53, died Tuesday at a Reno hospital.
He was "one of Alpine Meadows' best and most experienced professional ski patrollers," the resort said in a statement.
Two other skiers, a 39-year-old woman and a 16-year-old boy, suffered minor injuries in another avalanche Monday accidentally set off by three snowboarders at the KT-22 peak at Squaw Valley, the resort reported.
Amelia Richmond, spokeswoman for the Squaw Valley and Alpine Meadows resorts, said managers were doing "everything we can to keep our employees and our guests safe" while relishing the holiday snows.
The resorts reported a cumulative snowfall of 220 inches this season, the highest pre-Christmas total, apart from a record level two years ago, since they started keeping tabs in 1970.
"Mother Nature has really outdone herself this year," said Andy Wirth, the resorts' president and CEO.
Experts have a few tips on avoiding avalanches: Be especially watchful when the slope is steeper than 25 degrees; look for signs of recent avalanches; descend one at a time with your tracks close together when there is any possibility of danger; if caught in a slide, try to get off the snow slab or grab a tree; and if swept away, swim to the surface.