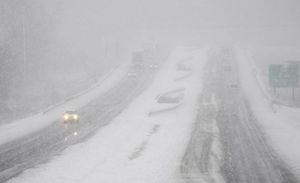 A powerful winter storm that has claimed at least five lives pounded the US midwest and northeast and disrupted post-Christmas travel last night.
Heavy snow and high winds prompted National Weather Service blizzard and winter storm warnings for the Ohio River Valley and into the Northeast. Approximately 37cm of snow was recorded at New Baltimore, Michigan, as the storm headed north and east. An estimated 200,000 thousand people are without electricity.
About 1,500 US flights were cancelled yesterday, according to FlightAware.com, a site that tracks flights. Some 170 flights also have been called off today, and several airlines waived ticket change fees for affected customers.
All four runways at Philadelphia International Airport were open, but some travellers still faced some cancelled flights.
The National Weather Service warned that between 30 to 45cm of snow was expected in northern New England, with snow falling through until tomorrow morning. The storm was accompanied by freezing rain and sleet, making driving treacherous, it said.
Across central New York, about 25 minor accidents were reported in a two-hour span Wednesday along major highways, said New York State police sergeant Nick Merritt.
"Right now we have additional patrols out on the roads in case we need them," he said.
If predictions of up to 40cm of snow come true, Buffalo will still be well below average for snowfall, said Bill Hibbert, a meteorologist for the National Weather Service. Buffalo's snowfall is 57.5cm below normal for the season.
Severe thunderstorms and widespread rain were expected from southeast Virginia to Florida, the agency said. The eastern counties in North Carolina and South Carolina were under tornado watches or warnings for much of the day.
The winter storm had swept out of the southern Great Plains and through the South on Tuesday. The system spawned at least 34 tornadoes.
A Texas man died after an accident involving a toppled tree in the road. Icy roads contributed to the deaths of four people in auto crashes in Oklahoma and Arkansas, according to police.
Twisters struck in Alabama, Mississippi, Texas and Louisiana, flattening houses and causing injuries, according to the weather service. The storm also dumped record snowfalls in north Texas and Arkansas.
Nearly 200,000 homes and businesses had no electricity in Arkansas and Alabama yesterday.
Source: Reuters