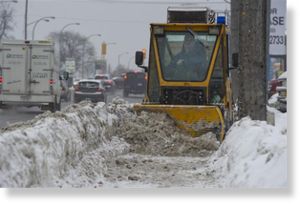 Toronto - Environment Canada warned Wednesday that a dangerous winter storm was moving into the southern and eastern regions of Ontario as the weather system works its way up from the U.S.
The agency said in a special weather statement that much of the province will be walloped by snow starting Wednesday afternoon as the outer reaches of a weather system making its way north from Kentucky crosses the border.
Meteorologist Arnold Ashton said the system will move on to deliver snow to parts of southern Quebec and New Brunswick on Thursday.
"It's the combination of snow and blowing snow that makes this particularly nasty," Ashton said.
Environment Canada said the areas of Dunnville and Niagara in southwestern Ontario and the stretch between Kingston and Cornwall in the east will bear the worst of the storm, getting 15 to 20 centimetres of snow.
The weather agency said other communities in those regions can expect up to 15 cm of snow, while central Ontario residents should get their snow shovels ready for 5 to 10 cm.
Ashton said the Greater Toronto Area is set for the most snow it's seen since 2010.
"Two years ago we got 10 centimetres and we may get that much snow in the GTA today," he said Wednesday, adding the storm will slide towards Ontario's border with Quebec throughout the evening.
"It's pretty nasty anywhere you go. Basically the whole (Highway) 401 corridor" will be affected, he said.
"If you can stay at home or stay at a relative's or a friend's a little bit longer and work around this storm, it will certainly be improving tomorrow. It's just tonight we are getting the brunt of it."
Ashton said conditions will be back to normal Thursday - just-freezing temperatures and clear-skies - as the system moves east of Ontario.
The storm sent air travellers in Toronto scrambling for the second day in a row Wednesday as scheduled flights were scrapped over the impending storm.
Toronto's Pearson International Airport delayed or cancelled more than 100 incoming and outgoing flights to Canada and the U.S.
Travellers are advised to double check their flight status before making their way to the airport.
Source: The Canadian Press