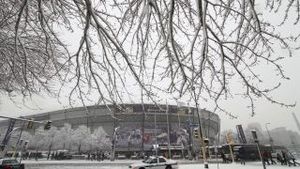 Minneapolis - The heaviest snowstorm to hit the region in two winters, named Caesar by The Weather Channel, dumped heavy snow across a broad belt of Minnesota including the Twin Cities area Sunday, as well as parts of western Wisconsin.
A snowfall totalling 10.5 inches fell on Minneapolis, setting a daily record that eclipsed the previous mark of 7.4 inches set in 1961
. The total was the fourth-highest for December in the history of the Twin Cities. Daily records of 11 inches fell in St. Cloud, MN, and 12.5 in Eau Claire, WI.
"The amazing combination of snow, wind and colder temperatures combined to produce the blizzard conditions over a three-state area," said Tom Niziol, the winter weather expert for The Weather Channel.
"It's interesting because it was a swath of heavier snow that moved across the Dakotas and in through Minnesota during the day and evening hours yesterday. For a major winter storm, a large-scale storm, the heavier snow was in a narrow corridor. We got as much as 17 inches of snow in Sacred Heart (MN), 14 inches in Hendrick (MN), and if we zoom into Minneapolis these are amazing snowfall totals.
I believe these are Top 5 for December calendar days that go back all the way to the 1800s.
"
The slow-moving storm caused difficult driving and scores of mostly minor traffic accidents across much of Minnesota, highway closures in eastern South Dakota and southwestern Minnesota, and flight cancellations and delays at Minneapolis-St. Paul International Airport.
The Twin Cities' heaviest snowfall last winter was 4.2 inches on Dec. 3. The heaviest snows of the winter of 2010-11 were 11.8 inches on Feb. 20, 2011, and 16.3 inches on Dec. 11, 2010.
That last storm caused the Metrodome to collapse - forcing the Vikings to play the final two games of the season elsewhere. The project to restore the inflatable roof cost $22.7 million, and officials there weren't taking chances on a repeat Sunday.
Steve Maki, director of facilities for the Metropolitan Sports Facilities Authority, said they cranked up the heat after Sunday's Vikings-Bears game and planned to keep it that way until the storm passed. He said everything was going well.
"What we don't want to happen is 21 inches in eight hours," Maki said. "We can handle it over 15-16 hours but eight hours gets a little tough sometimes."
Sportswriters who complained about the oppressive postgame heat up in the press box could have had a pretty nice sauna if they splashed some water on the rocks, Maki said jokingly.
The Metrodome looked only about three-quarters full at kickoff for the sold-out game, and fans streamed in late, with beads of melting snow apparent on everyone's jackets.
A blizzard warning was out for much of eastern South Dakota and southwestern Minnesota, while a winter storm warning was out for much of central and eastern Minnesota and western Wisconsin.
The National Weather Service reported at 17.3 inches at Sacred Heart and 15.5 inches at Granite Falls in southwestern Minnesota and more than 8 inches in Aberdeen, S.D. Reports of 7 to 9 inches were common across the Twin Cities area around Sunday afternoon. Rochester's 292-day streak of days without at least an inch of snow fell around 6 a.m. Sunday when its airport recorded 1.1 inches.
In Wisconsin, 7 inches were recorded near Grantsburg while nearly 5 inches fell in La Crosse. It was the first snowfall greater than 2 inches that La Crosse had seen since Jan. 21.
The Minnesota Department of Transportation reported difficult driving conditions across much of the southern two-thirds of the state, with no travel advised and several highways closed in west-central Minnesota and southwestern Minnesota. MnDOT spokesman Kevin Gutknecht said the agency pulled its plows off the roads in the Granite Falls, Madison, Marshall and Montevideo areas.
The Minnesota State Patrol reported nearly 600 crashes statewide from Saturday night through noon Sunday, with more than 60 involving injuries and one fatality. Lt. Eric Roeske also reported more than 960 spinouts or vehicles off the road.
Minneapolis, St. Paul, several suburban communities and St. Cloud declared snow emergencies, meaning parking restrictions will be in effect until the streets are plowed.
Around 150 flights at Minneapolis-St. Paul International Airport were canceled due to the storm, airport spokesman Pat Hogan said, but he said crews were able to keep at least one runway open. Delta Air Lines, the airport's main carrier, said travelers through the Twin Cities and Duluth could rebook their flights without charge. The Federal Aviation Administration said the snow delayed some flights by an average of about 90 minutes.
In South Dakota, officials closed Interstate 90 between Chamberlain and Sioux Falls and Intestate 29 from Sioux Falls to Sisseton because of blizzard conditions. Greg Fuller, director of operations for the South Dakota Department of Transportation, said travel would "continue to be a challenge, and patience is part of making safe choices."
The National Weather Service said that as of Sunday morning, Aberdeen had received 8.3 inches of snow and Sisseton in far northeastern South Dakota had 5.5 inches.
Shelly Anderson at the Coffee Cup truck stop on Interstate 29 near Summit, S.D., said some truckers and other travelers waited out the storm there, but for the most part motorists stayed off the roads Saturday night and Sunday morning.