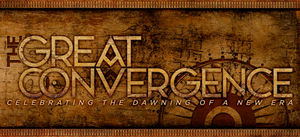 The other day I received this email to my
personal blog
from one of the organizers of THE GREAT CONVERGENCE 2012 in Egypt, a three-day festival that is taking place at the Great Pyramids of Giza followed by a five-day Nile cruise over the Winter Solstice, Dec 20-28, 2012. Here it is with my reply:
Kindest Editor at Piercing the Veil of Reality,

Melissa Jones here from The Confluence Group, a digital publicity firm in Los Angeles. I'm reaching out as we saw your previous coverage of Daniel Pinchbeck and wanted to let you know about an amazing upcoming event he is part of along with Philip Coppens and Carmen Boulter called The Great Convergence, a three day intentional festival that is taking place at the Great Pyramids of Giza followed by a five day Nile cruise over the Winter Solstice, Dec 20-28, 2012!

As I'm sure you are aware of the significance of this time, we'd love your help in getting the word out about the event! It's remarkable to believe that this prophesied time of the winter solstice, December 21st, 2012 - is less than 6 weeks away!

Additionally, the event producers, The Do LaB, also just announced their new contest for one lucky person to win a FREE ROUND TRIP TO EGYPT from anywhere in the world and a package to attend THE GREAT CONVERGENCE 2012!

They also are launching a new video featuring Boulter, Pinchbeck and Coppens and some of the other participants in this intentional gathering talking about their connection to the event, the pyramids at Giza, and the power of this unique time in history.

We'd love it if you could share the video and let your readers know about the gathering and the contest!

You can access the video and our new press release about the round trip package and scholarship contest on our media partner's page here: www.theconfluencegroup.com/tgc

And please sign up to enter the contest as well for your chance to go to Egypt too!

Thank you so much for your support!

Kindly,
Melissa
My response:
Hi Melissa

Apparently you haven't read the article where I mention Daniel Pinchbeck, exposing his lack of critical thinking and other New Age COINTELPRO subjects relating to the hyped "End of the Mayan Calendar" date 12/21/2012. I also mentioned in the article the cash-cow "2012 cruises" such as the one you want me to advertise. New Age spam....gotta love it! Surely a sign of an "aware" person to send me spam like that... . I guess the window is closing to make the most $$ out of the 2012 hype.

- 2012 - Collective Awakening or End of the World?
http://veilofreality.com/2012/07/22/2012-collective-awakening-or-end-of-the-world/

Nothing is really going to change unless these topics in this article are addressed and made conscious of. Maybe you should send the invite to the Palestinians since this event is right around the corner from them....that is, if they're still alive by then and are not so crippled that they wouldn't be able to make it to the party.

I can't believe what people spend their money on while this genocide is happening in our world and as everyone is watching. Imagine all the money/energy that it takes to organize this event and that people spend to go there (including airfares). And now imagine all that directed instead to help Palestine.

Here's a thought for all those going to this "Convergence". Cancel it, and since you have the time and money, book a flight to Israel/Gaza and help the Palestinians if you have some conscience left in you. It's right next to Egypt, so you could still get to see the pyramids too, if you must.

Kindly,
Bernhard
I'm just amazed about this spamming from "spiritually-minded" people and not having read the article to begin with (It certainly makes no sense to send that email if she hadn't read it). It was probably just a mass email to many people based on tagged key words. It seems like the tickets are not selling, so they have become desperate and are reduced to telemarketer tactics. Quite a "sign of our times".
Here's something that should be screened at THE GREAT CONVERGENCE and seen by everyone, considering the current attack of Israel on Gaza:
Along with this documentary produced by an ex-Israeli soldier who found his conscience:
History will have to record that the greatest tragedy of this period of social transition was not the strident clamor of the bad people, but the appalling silence of the good people. Injustice anywhere is a threat to justice everywhere. We are caught in an inescapable network of mutuality, tied in a single garment of destiny. Whatever affects one directly, affects all indirectly. He who passively accepts evil is as much involved in it as he who helps to perpetrate it. He who accepts evil without protesting against it is really cooperating with it.

- Martin Luther King, Jr.