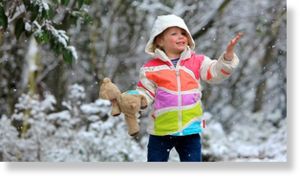 Snow has fallen across New South Wales and the ACT as a cold snap hits the region. The unseasonal weather saw residents in areas including the Blue Mountains and southern tablelands waking up to snow on Friday. There is also snow around Canberra, following the coldest October day there in more than 40 years. There was a maximum temperature of 8C in the Canberra area on Thursday, 11 degrees below the October average and the coldest since 1967. Overnight snow fell in the hills between Canberra and Bungendore and in areas around Goulburn and Crookwell to the north.
The Bureau of Meteorology said many areas could see snow, frost and hail as the result of a low pressure system moving across NSW. "We've had quite a few reports of snow. We're expecting snow down to 700m over many parts of the state," said meteorologist Julie Evans. There has been 2.5cm of snow on the ground reported at Nerriga, in the southern tablelands. In the Blue Mountains, snow has been falling between Blackheath and Katoomba.
Sussex Inlet on the south coast experienced a thunderstorm about 4am on Friday, with "extensive small hail" falling, Ms Evans said. "We do get this late season snow but it doesn't happen very often," she added. "The last time was in 2008 when we saw snow in the Snowy Mountains and central tablelands in November." In some areas, the temperatures will struggle to reach double figures on Friday, with central western Orange seeing a high of 9C. On Saturday, temperatures will dip below zero with Walcha, in the state's north, due to get a low of -4C. The low pressure was expected to affect Sydney in the form of heavy rain on Friday, along with a ""harp increase in wind," Ms Evans said. Coastal areas will bear the brunt and surfing conditions were described by the meteorologist as dangerous.
On Saturday there is likely to be extensive frost up and down the tablelands but temperatures are set to improve across the state as the weekend progresses. Ausgrid has warned residents in Sydney, the Central Coast and Hunter Valley to beware of power lines that may have fallen as a result of the bad weather. Ulladulla on the NSW south coast was hit by strong winds and rainfall. The town saw 225mm of rain fall in less than 24 hours and there were gusts of 47 knots on Friday morning, approaching 90km an hour. South of the town, heavy storms led to even higher falls, with 288mm at Burrill Lake in the same period. In Sydney, large swells caused the cancellation of ferries between Manly and Circular Quay.
The Great Western Highway has been closed in both directions at Wentworth Falls due to heavy snow and black ice. The cold front had already swept through South Australia, causing unseasonal snow flurries around Adelaide and trapping a school group who were hiking in Victoria. In Queensland, there also have been reports of sleet hitting part of the state's southeast. -
Herald Sun