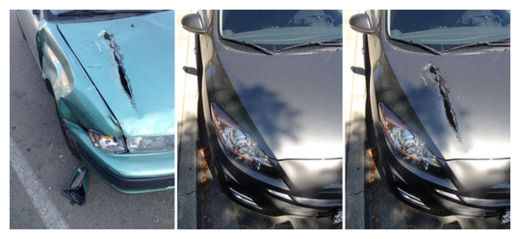 Hany Farid, a professor at Dartmouth College, has built a career and a reputation as a leading researcher in digital image forensics. He has made software tools for a number of impressive projects in recent years.
One was a pixel-sleuthing program
to detect how much fashion photographs have been burnished with Adobe's Photoshop editing program to remove wrinkles and flab, while plumping up lips and breasts. Another was software for
the automated detection of child pornography on the Web
to help law enforcement agencies.
Mr. Farid has worked with government agencies and companies, but these collaborations have typically been for individual projects. "Research is critical," Mr. Farid said. "But unless you put your ideas into a product, the impact is limited."
Mr. Farid is hoping to broaden the reach of his work as co-founder and chief technology officer of a start-up company,
Fourandsix Technologies,
which is being announced on Tuesday.
The company's president and other founder is Kevin Connor, who spent 15 years at Adobe. He was vice president of product management for Photoshop until last year, when he left to join Mr. Farid. At Adobe, Mr. Connor said, he was familiar with Mr. Farid's research, and Adobe engineers often cooperated with the Dartmouth scientist.
But at a company whose key product has been transmuted into a verb - "to photoshop" - that means to doctor pictures, the technology to authenticate images was not a priority.
At a glance, Fourandsix seems to be in the Photoshop-busting business. Mr. Connor does not see it that way. Photoshop, he said, is "a great tool" - and one that is only misused at times.
The core market for its first product, Mr.Connor said, will be law enforcement agencies and news organizations, where the authenticity of a photograph spells the difference between the truth and a lie. The Department of Homeland Security and the Associated Press were among the beta testers.
Fourandsix's downloadable software,
FourMatch, determines the likelihood that an image has been altered
by comparing the digital "signature" of an image with a database of more than 70,000 known signatures for cameras, smartphones, software and online services, from social networks like Facebook to photo-storing sites like Picasa. The software tells the user if an image matches a known signature or has been modified by software and can suggest how extensive the alteration may have been. FourMatch works as an extension to Photoshop.
The many signatures arise from the malleability of the JPEG standard, the format in which nearly all cameras save images. Different cameras and mobile devices have varying sensor sizes and resolution settings, and techniques for handling thumbnail pictures and image metadata. Different cameras and software use different methods to compress image files. All leave telltale digital tracks.
Fourandsix has certainly adhered to the lean start-up ethos so popular in Silicon Valley these days. It has not yet sought outside financing. Its founders are the company's only employees so far. And, like so many software start-ups, the company runs in the cloud, using Amazon Web Services and Google Apps. Fourandsix will look to add office space as it adds people, but its nominal headquarters is now Mr. Connor's house in San Jose.
In law enforcement and photojournalism, Mr. Connor said, there is a clear need for the start-up's product. "There is a business here," he said. "But the open question is what size of a business is it?"
The initial product is for professionals, priced at $890 with an annual fee for updates to the database of digital signatures.
Other markets for future products, Mr. Connor said, probably include health care, to verify the authenticity of medical images used in research and for billing. Another place the technology might be employed is e-commerce, where smartphone images are beginning to be used to make transactions in mobile payment systems.
And forensic-image technology, its founders say, may someday be used in social media by a broad consumer audience - a sort of reality filter for images on the Web: "What can be believed or not in all these photos flying around," observed Mr. Connor, whose business card carries the start-up's tagline, "Photographic Truth."