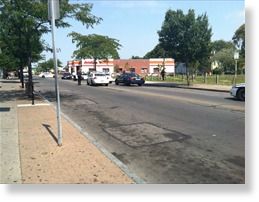 Gates, New York - A man was shot and killed while waiting in line at a Gates store early Friday morning.
Montre Bradley, 19, was in a crowd waiting for the retail release of a new sneaker when he was shot. He died later at the hospital.
A crowd of people were lined up at the Street Games store on Chili Avenue for the release.
Witnesses say two men robbed people in line waiting for the expensive shoes.
Gates Police Chief David DiCaro said, "Look this was a 19 year-old that was killed because they were trying to steal his money. All he wanted to do was buy a new pair of shoes. It is a tragedy, it really is a tragedy and we're going to do everything we can to bring him to justice."
His family told 13WHAM News, Bradley came to Rochester from California at the age of 14 after getting into some trouble while living with his mom.
But once here in Rochester, by every person's account he turned his life over to God and became a role model to friends and family.
His aunt, Denise Seymour, a mother-figure in his life, remembers that moment five years ago.
Seymour says, "He wanted to change his life, he said I want people to believe in me because nobody believes in me that I could be a good boy and I said you can, right here on this step right here he had some little twisties in his hair, ha, he was growing dreads and I said I believe in you. I believe that you can get anybody to trust you again and all that negativity can become positive it starts today gave him a big hug."
Montre Bradley graduated from Edison Tech this summer and was working at the University of Rochester. He was set to begin classes at MCC next week.
His cousin, Diontaye Thompson, says
"You can see how the world is like changing, people killing over sneakers."
13WHAM cameras were rolling when Friday afternoon's police chase came to an end.
The Gates Police Chief tells us the search for the suspects led them to a home in Gates.
Two men fled from that home in a white Mercedes. A pursuit picked up in the city of Rochester. It ended on North Clinton Avenue in Rochester, between Scrantom and Sullivan Streets.
Police took the driver into custody.
During the chase, police said one of the suspects bailed from the car.
He has not been found.
If you have any information that can help police, call CrimeStoppers at (585) 423-9300.