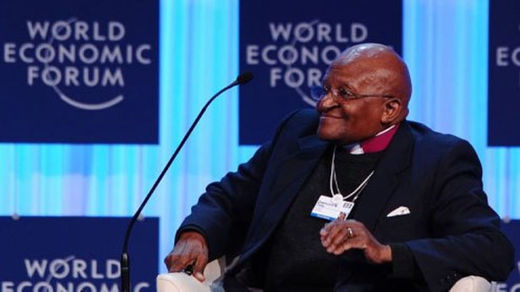 Archbishop Desmond Tutu, the Nobel laureate and icon of the anti-apartheid struggle, has withdrawn from a seminar in South Africa in protest at the presence of Tony Blair and the former prime minister's support for the 2003 Iraq war.
"The archbishop is of the view that Mr Blair's decision to support the United States' military invasion of Iraq, on the basis of unproven allegations of the existence in Iraq of weapons of mass destruction, was morally indefensible," said Roger Friedman, a spokesman for the cleric, who won the Nobel peace prize in 1984.
"Morality and leadership are indivisible. In this context, it would be inappropriate and untenable for the archbishop to share a platform with Mr Blair," he added.
Blair's office said he was "sorry" that Tutu had decided to pull out of the Discovery Invest Leadership Summit, which is due to take place in Johannesburg on Thursday, adding in a statement that the two were not due to be sharing a platform at the event.
"As far as Iraq is concerned they have always disagreed about removing Saddam by force - such disagreement is part of a healthy democracy," it said.
"As for the morality of that decision we have recently had both the memorial of the Halabja massacre, where thousands of people were murdered in one day by Saddam's use of chemical weapons; and that of the Iran-Iraq war, where casualties numbered up to a million, including many killed by chemical weapons.
"So these decisions are never easy morally or politically."
The seminar's website says that other speakers at the event will include the chess grandmaster and Russian opposition figure Garry Kasparov, and the former Tesco chief executive, Sir Terry Leahy.
Muslim groups in South Africa had called for Blair to be arrested for war crimes when he arrived in South Africa.
Mustafa Darsot, a member of the South African Muslim Network executive committee, told the Mail & Guardian newspaper: "Mr Blair is complicit in the murder of thousands of people in Iraq and should be tried for war crimes."
Supporters pointed to the arrestblair.org website, which describes itself as a site that "offers a reward to people attempting a peaceful citizen's arrest of the former British prime minister".
Such protests have become an increasingly common feature of Blair's life since he left office.
In June, a speech by him in Hong Kong on faith and globalisation was interrupted by an activist seeking to make a citizen's arrest.
In May, his testimony to the Leveson inquiry into the media was interrupted by an activist who shouted that the former prime minister should be arrested for war crimes.