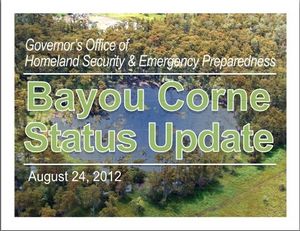 If the sinkhole cavern is fractured, little can be done was the
news
approximately 350 residents heard at a public meeting Friday night in Pierre Part about recent developments of the pending oil and gas-related catastrophe.
"If it's a cavern fracture, failure, whatever, there's little that you can do," Department of Natural Resources' (DNR) civil engineer who is coordinating the science group studying the sinkhole, Chris Knotts told the crowd at the public meeting Friday night in Pierre Part, Louisiana.
A "low but audible rumble in the crowd" followed that statement by Knotts, according to David Mitchell, reporting for
The Advocate.
"If it's as simple as a casing, yes (it can be fixed)," Knotts said.
Several agencies provided a sinkhole disaster overview Friday for approximately 350 people at St. Joseph the Worker Catholic Church's parish hall in Pierre Part. They addressed recent sinkhole developments and the continuing natural gas releases preceding the sinkhole by about two months and the ongoing gas being released.
The 1-mile-by-3-mile Napoleonville Salt Dome below the
expanding sinkhole
is a large salt deposit pushed up from an ancient seabed below the earth's crust, now housing 51 oil and gas-related facilities.
Texas Brine Co. has an abandoned storage cavern in that salt dome that it carved in 1973, believed by some to be the cause of bubbling sinkhole and gas bubbles percolating in the nearby bayous. Other scientists, those involved with the Louisiana Environmental Action Network, have said they believe that the
cavern is not be the source
of the gas bubbles increasingly spotted on nearby Grand Bayou, nor the thousands of earthquakes recorded before the sinkhole developed.
DNR permitted the company to pump radioactive waste into its cavern and the cavern has had problems since early 2011,
issues kept from the public
until after the sinkhole developed.
It is now known that
radiation is 15 times the state's acceptable level
in the sinkhole area.
"In Louisiana here, there are about 13,000 of these abandoned wells throughout the sate that still need to be mitigated because they are polluting parts of the state of Louisiana and that is Big Oil, our biggest employee here in Louisiana," retired General Russel Honoré recently told CNN.
Meanwhile, Louisiana's
crises team has been activated for the impending Tropical Storm Isaac
that is also threatening the sinkhole area only 63 miles from the Gulf of Mexico.
A Mandatory Evacuation is in effect for Bayou Corne and Texas Brine's exploratory drilling into the cavern above the sinkhole, predicted to take
forty days and forty nights,
began last week but has not reached the cavern, yet.
Sources:
The Advocate,
CNN