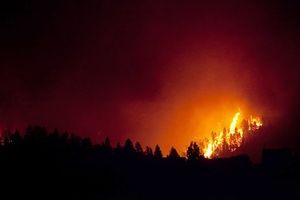 Spanish authorities evacuated a town of 1,800 residents on the Canary Islands on Tuesday, after three days of firefighting efforts failed to prevent a raging wildfire from reaching it.
Residents were evacuating from the town of Vilaflor, south of the Teide national park that spans the centre of the Spanish island of Tenerife, as flames reached parts of the town.
Emergency services "are evacuating residents from Vilaflor due to the advance of the fire from the east," the regional government said in a statement Tuesday evening.
It said the 1,800 people of the village were leaving by road. Authorities provided buses for some 200 people who did not have their own vehicles.
Authorities had prepared a shelter for the evacuees in the nearby town of Granadilla, the statement added.
Authorities earlier said the fire had crept a few metres into the Teide park, a major tourist attraction on the archipelago off northwest Africa, as firefighters battled to keep the flames away from populated areas.
Some 800 firefighters were battling the blaze, which broke out Sunday and has spread with strong winds and high temperatures, regional authorities said.
More than 90 people were evacuated from other parts of the island on Monday, of whom 60 remained away from their homes before the latest evacuations.
The fire had affected an area of about 3,000 hectares, of which half had been burnt, a spokeswoman for the regional emergency services said.
Firefighters said they were using five helicopters and three water-bombing planes that arrived Tuesday from mainland Spain, but authorities later said the thick smoke at Vilaflor was hampering efforts.
Another four helicopters and 300 firefighters were working to put out a blaze on one of the neighbouring islands, La Palma, that has engulfed around 500 hectares and forced more than 150 evacuations.
The spokeswoman said this fire had been "stabilised" on Tuesday afternoon after 160 people were evacuated.
Spain has been hit particularly hard by forest fires this year after experiencing its driest winter in 70 years.
The worst fire ravaged 50,000 hectares in the eastern Spanish region of Valencia in July.