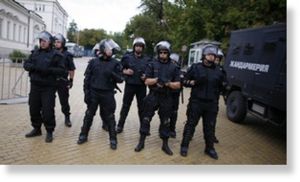 At least 20 injured after attack on Israeli tour bus at the Burgas Airport on 18th anniversary of Iran-sponsored bombing of Jewish center in Argentina; Bulgarian FM in touch with Liberman, headed to site.
Three Israelis were killed and many injured when a suicide bomber blew up an Israeli
tourist
bus at the airport of the Bulgarian city of Burgas on Wednesday, the 18th anniversary of the
Iran-sponsored attack on the AMIA Jewish center
in Buenos Aires,
Argentina
.
The bus was carrying Israeli tourists who landed in Bulgaria at a 4:45 p.m.
Foreign Minister Avigdor Liberman spoke with his Bulgarian counterpart Nikolay Mladenov in relation to the explosion.
Mladenov is heading to the site of the blast and said that he will bring Liberman up to
date
when he arrives.
Liberman called for an immediate meeting at the Foreign Ministry's situation room to discuss the issue with the relevant bodies.
The Israeli embassy in Bulgaria is also investigating the explosion.
ZAKA and MDA rescue services in
Israel
were preparing delegations to
fly
to Bulgaria.
In January
, a suspicious package found on a bus carrying Israeli tourists from
Turkey
to Bulgaria led Israel to request boosted
security
for its citizens traveling in the country, according to reports in the Bulgarian press.
The Sofia News Agency Novinite quoted Dan Shenar, head of security at the Israeli Transportation Ministry, confirmed he had requested the increased security at the time.
Israel has been concerned Hezbollah would try to attack Israelis overseas in in connection with the fourth anniversary of the assassination of Hezbollah military commander Imad Mughniyeh, attributed to the Mossad.
Israel had asked Bulgaria, for example, to increase its security over Israeli tour groups in the
capital
city of Sofia. According to Sofia News Agency, a Hezbollah plot was earlier uncovered by local security agencies, which warned Israel.