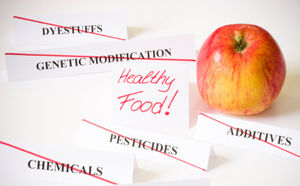 As you may or may not know by now, the United States government has allowed genetically modified and engineered organisms to enter the public food supply with no warning. Every day, millions of people
unknowingly ingest these GMOs
because corporations like Monsanto (and the politicians they've bought and paid for) claim it's unfair to require them to label their products.
Multiple scientific studies have
linked GMOs to illness, disease, and mutation in plants, animals and humans
. These adverse affects have been found to be especially pronounced in pregnant women and children, consequently a demographic that is more apt to eat the low price, processed foods that carry most of the world's GMO's.
Until such time as the state or federal government decides to finally stand up for the American consumer by passing mandatory GMO labeling laws, the only way to protect yourself from these toxic "foods" is to avoid buying and eating them.
FoodConsumer's Marie Cendejas
recently published a list of the top 10 GMO foods that you should avoid at all costs. We've pared down the list to five GMOs we think are especially gross or dangerous.
These are the foods that are worth the extra time it may take to research origins and the extra money it may cost to buy organic. As always, buying local is ideal, because you can contact the farmer directly to ask what kinds of seeds are used.