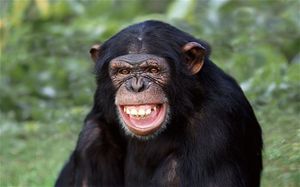 The man had been studying chimpanzee behaviour at the South African reserve of renowned British primatologist Jane Goodall when two of the animals dragged him for almost a kilometre, under a fence and almost a kilometre into their enclosure.
Paramedics said the man had been left in a critical condition after the "frenzied" assault, in which he suffered serious wounds and multiple bites.
Colleagues at the Jane Goodall Institute Chimp Eden near the city of Nelspruit in eastern South Africa said last night that they were "very upset" by the attack, the first in their six years of operation.
The centre was set up to rehabilitate chimpanzees rescued from circuses, zoos and the bushmeat trade across Africa.
It is presently home to 33 chimpanzees who are kept in large enclosures where they can be visited by tourists who pay £10 to join one of three daily tours.
It is understood that the unnamed victim was a young university student from the United States who had been observing the animals at the reserve for several weeks.
Jeffrey Wicks, a spokesman for private ambulance firm Netcare911, said witnesses said that he had been leading a tour group around the park and was standing close to a fence when he was attacked.
"A ranger at a chimpanzee sanctuary near Nelspruit is fighting for his life after he was attacked by two frenzied animals while leading a tour group at the park this afternoon," he said.
"According to eyewitnesses, two chimpanzees grabbed the man by his feet and pulled him under the perimeter fence and into the enclosure."
He said that the man was dragged nearly a kilometre into one of the enclosures, and paramedics required armed escorts to rescue him.
"He was rapidly stabilised at the scene and transported by ambulance to a private medical facility in Nelspruit," he said.
David Oosthuizen, Jane Goodall Institute executive director, confirmed the reserve was on lock down following the incident and they were looking at prompted it.
"We understand that the gentleman is stable and we really feel for him," he said. "This has been very upsetting for everyone - it is just horrific. We are an organisation that's respected worldwide for the work we do so anything like this is very bad."
He said because of the abuse suffered by the animals before they were rescued, everyone at the reserve was cautious around them.
"These chimpanzees have six times the strength of a human being so you have to respect them and we certainly do," he said.
The Chimp Eden sanctuary featured in the 2008 Animal Planet documentary series Escape to Chimp Eden.
It is one of three sanctuaries around the world established by the Jane Goodall Institute.
Dame Jane, 78, is considered one of the world's leading experts on chimpanzees, having travelled to Tanzania in 1960 and spent 45 years studying the mammals.