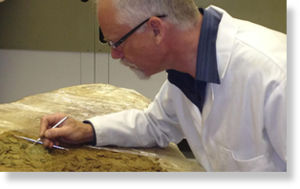 The largest hoard of Iron Age Celtic coins found anywhere in northern Europe has been discovered by two amateur metal detectorists who have been searching in the same field in Jersey for 30 years.
Reg Mead and Richard Miles found up to 50,000 silver and bronze coins, which remain clumped inside a massive block of soil. They had been hunting for buried treasure inspired by legends that a local farmer once turned up silver coins while working on the land. Earlier this year, they finally found 60 silver coins and one gold, dating from the 1st century BC. Every coin, Mead said, gave them the same thrill. "We are talking about searching for 40 to 50 hours to get these coins out, and every one gives you the same buzz."
They continued searching, convinced there was more to find. When they uncovered the main hoard - which archaeologists believe is unrelated to the first coins they found - experts joined the excavation led by Philip de Jersey, chief archaeologist on Guernsey and a former Oxford University authority on Celtic coins. Conservators have only revealed a handful of the coins which became detached from the main block. They are in remarkable condition and all believed to be from Armorica, modern Brittany and Normandy.
Archaeology
has already proved the close connections between the Channel Islands and the Brittany coast, where people evidently treated the rough sea crossing as no more threatening than a river. The coins would have been buried at a time when Caesar was slicing his way through Gaul, and hiding treasure would have seemed a prudent move.
Olga Finch, curator of archaeology at the Jersey Museum, called it a find of international importance.
"The fact that it has been excavated archaeologically is also rare and will greatly enhance the level of information we can glean about the people who buried it. It is an amazing contribution to the study of Celtic coins. We already have a number of very important Iron Age coin hoards found in the Island, but this new addition will make Jersey a magnet for Celtic coin researchers."
The
Frome hoard found in Somerset in 2009
was even larger but that was of slightly later bronze Roman coins.
Most of the Jersey coins are still locked inside the soil block, which weighs three quarters of a ton and has been removed in one piece from the ground and taken to a safe place.
Excavation continues in the field to make sure the whole story has been revealed. The exact location has not been disclosed, and the island's environment minister, Rob Duhamel, said it would get official protection to keep it safe from looters. "It is a very exciting piece of news and perhaps harks back to our cultural heritage in terms of finance. It was found under a hedge so perhaps this is an early example of hedge fund trading."
De Jersey said the find was exceptional, "certainly the largest hoard of Iron Age coins ever found, not just in Jersey but the whole of the Celtic coin-using world ... it is difficult to come out with a figure much below 50,000 coins given the volume of the block."
He believes there may also be Iron Age jewellery in the soil block, as in other Jersey hoards.
The land owners have said they would like the hoard to be displayed in the island's main museum - but who precisely owns the coins, or is entitled to the reward for finding them, is likely to take months to determine.
Like the old treasure trove law in mainland Britain, replaced in 1997 with the much more straightforward Treasure Act, Jersey's treasure regulations are based on medieval law, and depend on establishing not just that the hoard contains precious metal but how and why it came to be placed in the ground.
It has been suggested that the whole hoard could be worth £10m, but that is impossible to determine until the coins are identified and valued.
The hoard is likely to be five times the previous record from the island, 11,000 coins found in 1935.