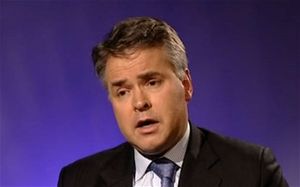 Children are being groomed for sex on a huge scale across Britain but police have only uncovered "the tip of the iceberg", a Government minister has said.
Tim Loughton, the children's minister, said there is a "real problem in this country" with exploitation of children.
The MP spoke out after a series of recent cases in which men have been jailed for grooming young girls for sex.
Speaking in the House of Commons, Mr Loughton said he has long though the grooming of children for sex is "much bigger problem than it may appear now on the radar".
"We are only seeing the tip of the iceberg now," he said. "For too long it was something of a taboo issue in this country, little spoken about, little appreciated, little acknowledged or dealt with.
"Few local authorities had much idea about how prevalent child sexual exploitation was in their areas and as a result there was a real and tragic failure to grasp the scale of the problem."
He said recent court cases show the authorities are "at last waking up" to the scandal.
The most high-profile prosecution has been against nine Muslim men found guilty of grooming young white girls for sex in Rochdale.
Following the trial, Baroness Warsi, the Coalition's only Muslim minister, argued that a small minority of Pakistani men see white women as "third-class citizens" and "fair game".
Mr Loughton yesterday said the authorities must not "shy away from difficult issues around culture" when addressing the exploitation of children.
He said the case raised "very troubling questions about the attitude of the perpetrators, all but one of whom were from Pakistani backgrounds, towards white girls".
But he said there were victims and exploiters from "all social and ethnic sets as well".
His comments come after Sue Berelowitz, the deputy children's commissioner, warned this week there is not a "town, village or hamlet in which children are not being sexually exploited".
She told MPs she had uncovered abuse of children in the most "lovely, leafy, rural parts" of Britain.
"We should start from the assumption that children are being sexually exploited right the way across the country," she said.
"In urban, rural and metropolitan areas, I have hard evidence of children being sexually exploited.
"That is part of what is going on in some parts of our country. It is very sadistic, it is very violent it is very ugly."
However, Stephen Twigg, the shadow education secretary, yesterday cast doubt on the Government's record at protecting children.
He said the Coalition's efforts to cut red tape for councils had undermined the welfare of children, making its policies "somewhat incoherent".
"On the one hand ministers like to lambast local authorities, yet they are removing regulation and placing more power in the hands of local authority social workers," he said.