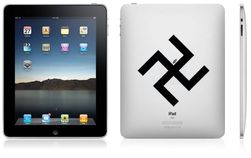 An Alpharetta woman and one of her friends say the Apple Store turned them away after they heard them speaking Farsi.
One was trying to buy an iPad, the other an iPhone. When they were heard speaking the foreign language, they said the sales representative refused to sell them anything.
Apple says it's simply following U.S. policy.
"Very hurtful, very embarrassing. I actually walked out in tears," Sahar Sabet said about the experience.
Sabet is a U.S. citizen. Like most 19-year-olds, the University of Georgia student is never far from her iPhone.
So she was surprised Thursday when an employee at the Apple Store inside North Pointe Mall in Alpharetta refused to sell an iPad to her and her uncle after overhearing them speaking Farsi.
"When we said 'Farsi, I'm from Iran,' he said, 'I just can't sell this to you. Our countries have bad relations,'" Sabet said.
"I would say if you're trying to buy an iPhone, don't tell them anything about Iran. That would be your best bet," said Zack Jafarzadeh, who had a similar experience at the Apple Store in Perimeter Mall.
Jafarzadeh said he was helping a friend buy an iPhone. That friend was from Iran, living and studying in the Atlanta area on a visa.
"We never talked about him going back to Iran or anything like that. He was just speaking full-fledged Farsi and the representative came back and denied our sale," Jafarzadeh said.
Channel 2's Amy Napier Viteri went with Sabet to the North Point Apple Store Monday.
They obtained iPhone video of the same employee repeating the policy.
He reiterated (the policy) always will be to not sell to anyone from Iran.
A manager showed Viteri
Apple's policy
. It said the exportation, sale or supply from the U.S. to Iran of any Apple goods is strictly prohibited without authorization by the U.S. government. The manager also told Viteri they have to rely on customers to be honest.
"Discrimination. Racially profiled. He didn't have any business asking me what country I was from," Sabet said.
Jafarzadeh, who is from Virginia, said no one asked him where the phone was going. The employee only questioned his ethnicity.
"I feel like this is a bit of racial profiling against Iranians and I'm appalled," Jafarzadeh said.
Sabet said the policy is confusing since it does not seem to be consistent.
She said when she called corporate customer relations, an employee apologized and told her she could buy the iPad online.
A representative for the U.S. State Department told Viteri it is illegal to travel to Iran with laptops or satellite cellphones without U.S. authorization.
That representative said she is not familiar with Apple enforcing that law.