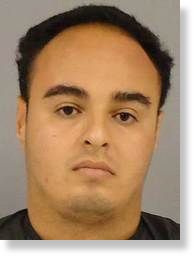 A Palm Coast man is accused of strangling, or otherwise killing at least one kitten, and biting the lips off another, according to a Flagler County Sheriff's report.
Angel Vega Roman, 28, is charged with cruelty to animals. He was arrested Saturday on warrant for the abuse, which occurred earlier in May, the report states.
Roman, according to the report, confessed to an acquaintance that "he accidentally choked a kitten" a couple of weeks ago that belonged to roommates, according to the report. He also told the man "he bit the lips off one of the kittens and burnt its ear and whiskers with a lighter."
The man called both the kittens' owners and authorities.
Deputies went to the Burton Place home on May 20 and spoke with Roman, who said that "he has been depressed lately because his girlfriend is gone and that is why he harmed the animals," the report states. Roman was taken into protective custody under a Baker Act.
The kittens' owners told deputies "Roman spent a lot of time with the kittens and was always holding them, but they did not realize he was harming them, according to the report. They said it had been going on for about three weeks.
Roman was left alone with the kittens while the owners were out of town, the report states. He called and said someone wanted two of them and asked if he could give them away, and he was given permission to do so.
"These two kittens are unaccounted for at this time," a deputy reported.
A dead kitten was found in the home days later, but the owners believed it died of natural causes, according to the report. They also realized "Oreo," a black and white kitten, appeared to be injured, and the injuries worsened.
After a friend told the kitten's owners that another kitten couldn't have caused the injuries to Oreo, they confronted Roman, the report states.
Roman admitted to the owners that he "choked the kitten that was found dead" and that he bit and burnt Oreo, according to the report. Pictures were taken by deputies and Oreo was turned over to the City of Palm Coast animal control.
Oreo was examined by a local veterinarian the next morning and the injuries were consistent with statements made to deputies, the report states.
The kitten's owners voluntarily released custody of the kitten to the city, which is now responsible for medical expenses upward of $300, according to the report.
Roman was booked into the Flagler County Inmate Facility, where he remains on $100,000 bail.