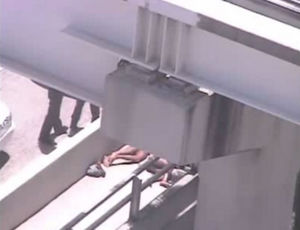 The naked man who savagely attacked another man in Miami and chewed most of his face off may have been under the influence of a powerful psychedelic drug.
Rudy Eugene, 31, was shot dead Saturday by an officer who discovered the gruesome scene at the foot of a highway off-ramp.
"He was ripping into his face with his teeth," said Larry Vega, who witnessed the ghoulish attack.
"He was ripping his skin, his neck. He had him held down. The guy couldn't move really, and he was just tearing into his flesh," Vega told WSVN TV in Miami.
Vega flagged down a police officer, who repeatedly ordered the assailant to stop and move away.
"The guy just stood his head up like that, with a piece of flesh in his mouth, and growled," Vega said.
The victim, identified by the
Miami Herald
as 65-yar-old Ronald Poppo, remained in critical condition, with about 80% of his face gone.
Police initially speculated Eugene had been in a "cocaine psychosis." But a doctor at Jackson Memorial Hospital, where Poppo is being treated, said
Eugene might have been high on "bath salts."
The drug is a powerful combination of stimulants that
causes agitation, psychosis, and stimulatory effects
, according to Dr. Zane Horowitz of the Oregon Poison Center, in an interview on WebMD.com.
"
But there's something more, something different that's causing these other extreme effects
," Horowitz said.
The drug gets its name from the household product it resembles. Doctors have described effects ranging from
delirium and elevated body temperature to extreme strength and violence
.
"But right now, there's no test to pick up this drug," Horowitz said. "The only way we know if someone has taken them is if they tell you they have."
--with files from Reuters