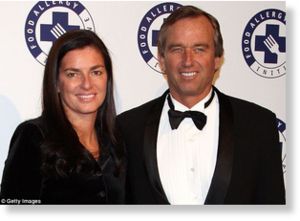 Mary Kennedy, the ex-wife of Robert Kennedy Jr., was found dead this morning in her home. Initial reports point to suicide as the cause of death for the 52-year-old.
She and Robert Kennedy, the third-eldest of Robert Kennedy's 11 children, were married for 16 years before they divorced in May of 2010.
The mother-of-four was found dead in her Mount Kisco home Wednesday but there have yet to be formal reports about the exact cause of death.
'There was an EMT vehicle outside the home about an hour ago,' a source told
Radar Online
.
Just three days after her ex filed for divorce, she was arrested for suspected drunk driving.
She was arrested when police saw her drive over a curb outside of a school carnival. When she failed several sobriety tests, she was given a breathalyzer test and blew a 0.11 which is above the legal limit of 0.08.
That year in particular was filled with legal drama for the family, as a local blog reports that a domestic violence report had been filed- though no charges were actually pressed- at the family home a week prior to the DUI charge.
In that case, it was two of the family's four children had gotten into a fight.
Her ex-husband is currently dating actress Cheryl Hines, known best for her role as Larry David's wife on "Curb Your Enthusiasm".
Mary, neé Richardson, was Robert's second wife and the couple married in April 1994. After a Roman Catholic mass, the wedding ceremony was held on a boat on the Hudson River.
Mr Kennedy divorced his first wife in the Dominican Republic a month before his second marriage. Mary gave birth to their first child three months later.
At the time of their marriage, she was working as an architectural designer in Manhattan.
Robert Kennedy, 58, works as a radio show host, a political activist, and environmental lawyer. In addition to his four children with Mary- whose names are Conor, Kyra, William and Aiden- he has two older children from his first marriage.
He is the son of Robert F. Kennedy, the one-time presidential nominee who was assassinated just five years after his brother President John F. Kennedy was also shot dead.