Seller claims they sold out in 2 days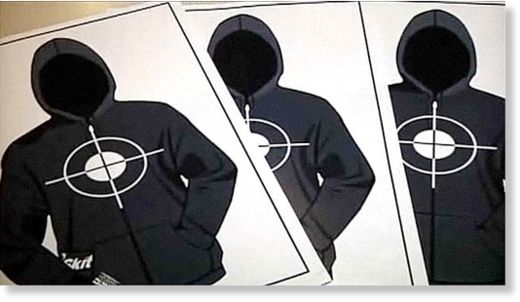 The attorney for George Zimmerman says he's disgusted by the Trayvon Martin-inspired targets that recently surfaced for sale on a gun website.
"This is the highest level of disgust and the lowest level of civility," Mark O'Mara told WKMG Local 6, a CNN affiliate in Florida.
"It's this type of hatred - that's what this is, it's hate-mongering - that's going to make it more difficult to try this case."
The paper targets to which O'Mara was referring feature black hoodies with crosshairs stamped across the chest, and images of Skittles and a can of iced tea printed near the pocket.
Local 6 first spotted the ad for the targets on a firearms auction website and reports that it has since been pulled.
The station spoke to an anonymous person who claimed to be the one hawking the prints.
"My main motivation was to make money off the controversy," the seller told Local 6.
The prints were sold in packs of 10 for $8.
"The response is overwhelming," the seller told Local 6. "I sold out in two days."
While the seller wouldn't confirm how many printed targets were made or sold, he did say that some were sold to Florida gun dealers.
In the ad, the seller states that "obviously we support Zimmerman and believe he is innocent and that he shot a thug."
The tasteless targets were inspired by the death of 17-year-old Martin, the unarmed Florida teen who was shot dead by a neighborhood watchman, George Zimmerman, on Feb. 26. His death sparked an uproar across the United States, and a national debate about racial profiling.
Martin, who was shot in the chest, was wearing a hoodie and carrying a bag of Skittles and the drink before his fatal interaction with Zimmerman in Sanford, Fla.