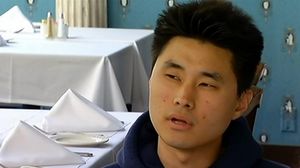 Daniel Chong, the 23-year-old student at UC San Diego who was left in a Drug Enforcement Agency (DEA) holding cell for five days without food or water, has filed a $20 million lawsuit against the agency,
according to NBC San Diego
.
"The deprivation of food and water for four and one-half days, while the person is handcuffed the entire time, constitutes torture under both international and domestic law," Chong's claim says. Senator Barbara Boxer (D-CA) has
asked Attorney General Eric Holder for a formal probe
.
"Given the seriousness of this incident, I urge you to personally ensure that the Department of Justice conducts a full and thorough investigation to find out what happened, who was responsible and what steps must be taken to make sure it never happens again," the senator wrote. "After the investigation is completed, I ask that you please provide me with the results and the actions the department will take to make sure those responsible are held accountable and that no one in DEA custody will ever again be forced to endure such treatment."
On April 21, DEA raided an apartment where Chong and his friends were smoking marijuana. Nine people were arrested and the agents reportedly seized ecstasy pills, marijuana, prescription medication, psychedelic mushrooms and weapons. Seven of those arrested were taken to jail and one was released.
Chong, however, was left handcuffed in a 5 ft. by 10 ft. holding cell. There he sat, unattended,
for nearly five long days
, allegedly losing over 15 pounds and drinking his own urine to survive. "I had to do what I had to do to survive... I hallucinated by the third day," Chong said, according to NBC San Diego. "I was completely insane."
Chong said he screamed and kicked the door, but to no avail. After days without any human contact, he tried to kill himself by breaking his glasses with his teeth, and using the glass to cut himself.
Surprisingly, Chong says he found a bag of methamphetamine in the holding cell, which he used to stay awake. Finally, almost five days after his ordeal began, Chong's cries were heard by a DEA worker who immediately called paramedics.
He spent three days in intensive care near kidney failure, but appears to have physically recovered. Speaking to reporters in San Diego, Chong called the incident "life-altering."
The DEA
has since apologized to Chong
, and special agent William Sherman, director of the San Diego DEA, said in a prepared statement that he was "deeply troubled" by the incident. "I extend my deepest apologies to the young man and want to express that this event is not indicative of the high standards that I hold my employees to," he added.
The agency said it is conducting an internal probe into Chong's ordeal.