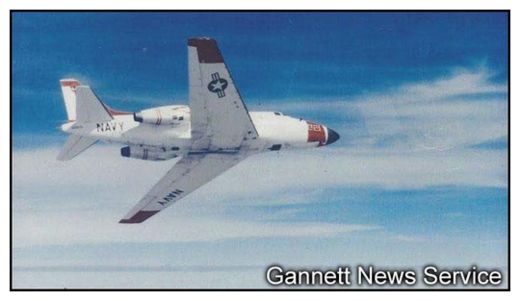 Pensacola, Florida -- After nearly four decades of keeping mum about a close encounter with a UFO over Pensacola, a retired Marine Corps pilot is telling his story in a newly released book.
On the night of Feb. 6, 1975, then Marine Reserve Squadron Capt. Larry Jividen was piloting a T-39D Sabreliner combat trainer and utility aircraft with a crew of five aboard.
The two-hour flight, which began around sunset, took off and landed at Pensacola Naval Air Station. As the Sabreliner was returning from the training mission, Jividen said he noticed the aircraft was being paced by a circular red light.
"He was the one individual I thought would be credible to tell the story to," Jividen said.
After being featured in Alexander's new edition, which was released March 28, and a recent Huffington Post story, Jividen is in the national UFO spotlight.
Jividen lived in the Pensacola-area from 1969 to 1976 while he was a flight instructor for the Marine Corps aboard Pensacola Naval Air Station.
He was a Marine Corps pilot for nine years.
During the Vietnam War, he was awarded the Distinguished Flying Cross for "heroism and extraordinary achievement" for piloting a helicopter extracting a Marine reconnaissance team that was under heavy fire.
He said he's lost touch with all of the crew members from the flight in 1975, but he's hoping he might reach some who might have retired in Pensacola and might want to share information.
Jividen, 67, retired in 2002 as a United Airlines pilot and lives in Henderson, Nevada.
And after all these years, does he still believe he saw a UFO piloted by extraterrestials?
"It was probably a visitor from somewhere that is observing us," he said. "Whether it's something inter-dimensional, from an alternate universe, an atmospheric phenomenon... there are several possibilities."
He radioed in to Pensacola Approach Control to ask what the traffic was, but they didn't see anything on the radar besides the Sabreliner.
Jividen said that he and the five others all saw, from a distance, a round solid object in the sky at about their 1-o'clock position.
He said the UFO didn't act like any kind of military or civilian craft.
"On the radio, every time the guy would push the mic button, you'd hear people in the background chattering about it," Jividen said. "They were very concerned and excited that they couldn't see it on their radar, and they wanted to know what we were seeing."
Intrigued, Jividen decided to turn toward the UFO to see what it would do.
"Suddenly the red light jumped to the left, which would be the 11-o'clock position on the nose," he said.
After making sure the red light wasn't a lighthouse, Jividen said he wanted to find out if the UFO was solid.
Flying underneath it, he said the UFO was surrounded by stars, and flying over it, the UFO cast a silhouette against the Gulf of Mexico.
"After about five minutes, it sped out to the west over the horizon," Jividen said.
After landing, he said he filed a report on the incident. "And we never got any further feedback on the event," he said.
But after reading John Alexander's first edition of
UFOs: Myths, Conspiracies and Realities,
Jividen felt compelled to share his story with the author, who is known for researching UFO sightings involving credible government and military witnesses.