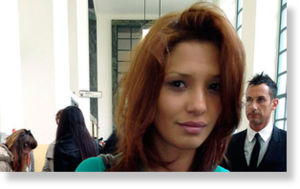 A model testifying at Silvio Berlusconi's trial for paying an underage prostitute has given dramatic evidence of young women dressed as nuns and footballers stripping at the former prime minister's parties, and has claimed she was warned not to speak about what she had seen.
Moroccan Imane Fadil, 27, told the court she watched as two young women donned black habits and crucifixes to perform a pole dance before stripping to their underwear. At another party, a Brazilian model wearing a mask of the footballer Ronaldinho and an AC Milan shirt stripped to her G-string.
Fadil is one of at least three women who have come forward to deny Berlusconi's claims that his "bunga bunga" parties at his mansion outside Milan in 2010 were more than just "elegant dinners".
Shocked at what she saw at her first party, Fadil said Berlusconi took her into his office and handed her a watch, earrings and €2,000 (£1,650) in an envelope, stating: "Don't be offended, but I know you women are always in need."
Fadil said she declined to stay the night, and claimed the women who did were paid more for sex. "The girls complained they were afraid of diseases," she said. "But they all competed to stay because whoever stayed earned a lot more."
The nights, she said, were arranged by Nicole Minetti, a former TV showgirl now regional councillor for Berlusconi's party - who was one of those allegedly dressed as a nun - and Emilio Fede, a former newscaster on one of his TV channels.
Both are separately standing trial for procuring prostitutes for Berlusconi, who stepped down as prime minister in November.
Berlusconi's trial, which started last April, centres on his relationship with Moroccan runaway Karima el-Mahroug, known as Ruby the Heart Stealer, who attended parties aged 17. Paying a prostitute under 18 is illegal in
Italy
. Berlusconi is also charged with pressuring police to hush up the case.
He has said large sums of money he gave to Mahroug were to prevent her straying into prostitution, while he has also claimed he believed she was a relative of former Egyptian leader Hosni Mubarak.
Fadil, who is also a Moroccan national, said that on one occasion a fellow party guest had told her Mahroug had "extremely compromising" photos and videos of the parties.
After news of Berlusconi's parties emerged, Fadil said she was repeatedly contacted by a "mysterious" blond, blue-eyed man who invited her to a meeting at Berlusconi's mansion and gave her an untraceable mobile phone to stay in touch.
She told the court: "That person threatened me and told me, 'If you say something about our meeting, it's your business.'" Asked by Berlusconi's lawyers why she had not spoken before of the meetings, Fadil replied: "I was scared, and I am scared today to walk out of this courtroom."
After refusing to meet Berlusconi. Fadil said she was contacted by Fede. "He made me understand that I should not talk about what I had seen," she said.