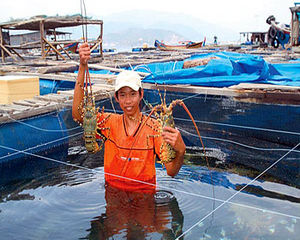 Farmers in Vietnam's central region are struggling with the mass mortalities of their lobster crops. Meanwhile, farmers in the Mekong Delta in the south are constantly fighting against heavy tiger and white-legged shrimp deaths.
The provincial Departments of Agriculture and Rural Development in the Mekong Delta report that many provinces have begun the newest shrimp crop this year -- but large amounts have succumbed to disease.
So far, 848.3 million breeder shrimp have been released on 12,412 ha by 11,563 farming households in coastal areas in Tra Vinh Province, of which over 40 million on more than 1,017 ha farmed by 800 households have die.
Shrimp farmed on over 500 of 1,200 ha in Soc Trang Province have also perished. Over 30 per cent of 3,000 ha of tiger prawns released in January and February were also affected,
The Saigon Times
repots.
The diseases have destroyed over 30 per cent of the total shrimp farming area in roughly 3,500 ha in Ca Mau Province, and as much as 50 per cent in some districts.
Bac Lieu Province had 1,256 ha under shrimp farming by February, and 49 ha has been hit; the figure in Long An Province is 268.5 out of 1,018 ha.
Experts say the deaths are partly caused by water pollution and untimely farming, plus cheap breeder shrimp with unknown origins.
Farmers have been warned that more shrimp would die in the next couple of months when the main shrimp farming season starts due to
pollution from pesticides.
Regarding lobsters, authorities in the central region say there are over 300,000 lobsters dead in Song Cau Town - one-third of the total. Over 1 tonne of lobsters weighing 0.2-0.6 kg each die daily in Song Cau Town's Xuan Thinh Commune.
The situation is similar in Khanh Hoa Province. Total damages in Van Ninh District have amounted to hundreds of billions of dong, with Van Thanh Commune having 40 tonnes of lobsters die.
In addition, farmers are facing a sudden price drop. First-grade lobsters have dropped from VND 2.7 million (USD 129.9) to VND 1.17 million (USD 56.3) a kg.
The
Vietnam General Department of Fisheries
has asked local authorities to take measures to control disease outbreaks, such as temporarily suspending shrimp farming.
Nguyen Huy Dien, head of the department, said shrimp farming provinces and the fisheries industry were seeking the government's help.
Dr Vo Van Nha from the Research Institute for Aquaculture No. 3 noted that farmers mostly raise shrimp based on their own experiences as opposed to farming techniques. He thus stressed the need to give farmers technical training so that they can learn of disease treatment and prevention.