The mayor of Medora, a small tourist town in North Dakota, is planning to erect a gallows on his property in a bid to boost visitor numbers.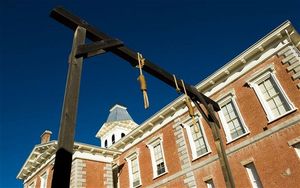 Doug Ellison, 49, has asked the town's Planning and Zoning Commission for permission to build the attraction, and intends to stage a mock hanging - with his own neck in the noose.
"The matter was not on the agenda and they were a little taken aback,'' Mr Ellison is reported to have said. "There was about five seconds of stunned silence and at first I think they thought I was joking.''
The commission is expected to vote on the proposal next month, and Mr Ellison said he was hopeful of securing approval.
"My vision is to stage a shooting, where I'd gun down someone in the street, have a trial and a hanging, all within 20 or so minutes," he said. "Anything longer than that and the tourists would lose interest."
Mr Ellison explained that equipment required to construct the gallows would be purchased from a film industry stunt supplier. To ensure safety, a harness would be worn under his clothes to take the impact of the fall.
"The rope is just a prop," he added. "There is no danger of breaking your neck."
Medora was founded in 1883 and has a population of just over 100 people.
Its current attractions include the Medora Musical, an annual Wild West-themed production, and the Chateau de Mores, a 19th-century hunting lodge. It also lies on the edge of the Theodore Roosevelt National Park.