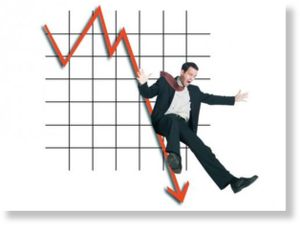 Behind the mainstream Wall Street happy talk about more stable financial markets and an improving economy are grim warnings of tough times ahead from a small cadre of doomsayers who warn that the worst of the financial crisis is still to come.
Harry Dent, author of the new book
The Great Crash Ahead
, says another stock market crash is coming due to a bad ending to the global debt bubble. He has pulled back on his earlier prediction of a crash in 2012, as central banks around the world have been flooding markets with money, giving stocks an artificial short-term boost. But a crash is coming in 2013 or 2014, he warns. "This will be a repeat of 2008-09, only bigger, when it finally hits," Dent told
USA TODAY
.
Gerald Celente, a trend forecaster at the Trends Research Institute, says Americans should brace themselves for an "economic 9/11" due to policymakers' inability to solve the world's financial and economic woes. The coming meltdown, he predicts, will lead to growing social unrest and anti-government sentiment, a U.S. dollar with far less purchasing power and more people out of work.
Celente won't rule out another financial panic that could spark enough fear to cause a run on the nation's banks by depositors. That risk could cause the government to invoke "economic martial law" and call a "bank holiday" and close banks as it did during the Great Depression.
"We see some kind of threat of that magnitude," Celente, publisher of
The Trends Journal
newsletter, warned in an interview.
Robert Prechter, author of
Conquer the Crash
, first published in 2002 and updated in 2009, is still bearish. He says today's economy has similarities to the Great Depression and warns that 1930s-style deflation is still poised to cause financial havoc. Prechter predicts that the major U.S. stock indexes, such as the Dow Jones industrials and Standard & Poor's 500, will plunge below their bear market lows hit in March 2009 during the last financial crisis. The brief recovery will fail as it did in the 1930s, he says.
2 very different viewpoints
If he's right, stocks would lose more than half of their value. "The economic recovery has been weak, so the next downturn should generate bad news in a big way," Prechter said in an e-mail interview. "For the third time in a dozen years, the stock market is in a very bearish position."
These dire forecasts differ sharply with the brighter outlooks being espoused by the bulls, or optimists, on Wall Street. Recent stock performance and fresh readings on the economy also suggest a future that is less gloomy than the doomsayers predict.
The Dow, for instance, is in rebound mode and has climbed back to levels not seen since the early days of the financial crisis in May 2008. Tech stocks in the Nasdaq composite are trading at levels last seen in 2000. Data on auto sales, manufacturing and consumer confidence have been firming. Job creation is also on the rise. The unemployment rate dipped to 8.3% in January, its lowest level in three years.
As a result, stock market strategists such as Rod Smyth of RiverFront Investment have been raising their outlooks for 2012. Smyth raised his target range for the S&P 500 to 1250-1500. If the market hits the top of the range, stocks would have risen 10%. Similarly, Brian Belski, strategist at Oppenheimer, recently said he remains comfortable with his year-end 2012 target of 1400. That's up 2.5% from here. Bespoke Investment Group published research that shows the market, which is closing in on a new bull market high, has done well in the past once it breaks through old highs.
Bulls are betting that Europe's banking system will be stabilized, minimizing the risk of a severe credit crisis. Bulls are also encouraged by recent data from around the world that show modest growth and a pickup in economic momentum.
The causes of economic calamity
So what has the super-bears so worried?
Dent says the combination of aging Baby Boomers exiting their big spending years and a shift toward debt reduction and austerity around the world will cause the economy to suffer another severe leg down, making it more difficult for the government and Federal Reserve to avert a new meltdown. He has not always been bearish. In 1993 he wrote
The Great Boom Ahead
.
Celente, who as far back as 2008 has been warning of economic calamity, argues that the ballooning debt and the growing divide between the haves and have-nots has put the U.S. in a weakened state.
As a result, he says, the nation is more vulnerable to potential shocks. He worries about potential chaos caused by people all trying to yank their money out of financial markets at the same time. He also sees risk in the event there is a loss of confidence in elected leaders.
Societal unrest in the form of street protests and increased crime are possible, too, he adds. Markets could also be spooked by an oil price shock due to a military conflict between Israel and Iran, or a bad outcome to Europe's debt crisis.
"2012 is when many of the long-simmering socioeconomic and political trends that we have been forecasting and tracking will climax," Celente noted in his
Top 12 Trends 2012
newsletter. In an interview he added: "When money stops flowing to the man on the street, blood starts flowing in the street."
While bulls are urging investors to get back into stocks, the doomsayers are advising a far different strategy. Dent's investment advice is simple: "Get out of the way." He recommends buying short-term U.S. Treasury bills and the U.S. dollar, which will benefit from safe-haven cash flows. He says stocks will fall sharply in value.
Celente's advice centers on survival. He says buy gold so you don't lose purchasing power when the value of the dollar plummets. He says buy a gun to protect your family against desperate people in search of food and money. He says plan a getaway to places with more stable finances and governments.
Prechter says to keep your powder dry and buy when things get really bad: "When things get really scary, as in early 2009, I get bullish."