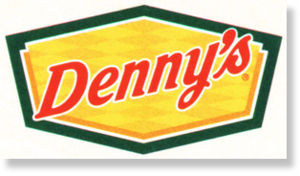 Police say a Wisconsin man took the Denny's restaurant chain slogan "America's diner is always open" too far, marching into one of the restaurants, announcing he was the new boss and cooking himself dinner.
James Summers walked into a Madison Denny's on Tuesday dressed in a maroon tie and black trench coat and carrying a briefcase, according to police. He strode into the manager's office, told her he was the new general manager and then fixed himself a burger, fries and a soda before police arrived.
"This is why you don't dine and dash, kiddies," Summers yelled out to diners as officers took him away, police said in a release.
Police found a stun gun in a hip holster under his coat and crack pipes in his briefcase, a criminal complaint showed. Prosecutors charged him Wednesday with disorderly conduct and possession of drug paraphernalia, both misdemeanors, and felony possession of an electronic weapon.
According to the complaint and the police news release, Summers, 52, entered the Denny's and found restaurant manager Tracy Brant counting out the day's receipts in a back office. He announced he was her new general manager and would be starting work that evening.
Brant challenged him, saying corporate headquarters hadn't notified her of any new general manager. She suggested he had the wrong restaurant.
But Summers maintained his story, growing more confrontational after Brant told him she didn't believe him. He told her he was starting and that was final, investigators said in the complaint.
She was able to get Summers out of the office and close her door. She called a hiring manager who confirmed Summers didn't work for Denny's.
While she was on the phone, her cooks knocked on the door and told her Summers had prepared himself a meal. He was in the middle of eating when Brant confronted him again. She told him he didn't work for Denny's and he had to leave.
Summers shot back that he had worked for Denny's for 30 years and Brant wasn't going to tell him he couldn't work there. When Brant asked him how he planned to pay for his $10 meal, he told her he wouldn't - and couldn't - pay.
Brant called 911. Police found Summers as he was walking across the restaurant parking lot. He told officers that he had an alcohol and drug addiction, according to the complaint.
Summers' initial court appearance was Wednesday. Court records show a public defender represented him. A spokesman for the state public defender's office declined comment Thursday, saying the office won't represent Summers as the case progresses.
A Denny's employee referred calls to a Denny's area manager, who didn't immediately return a message left by The Associated Press. A manager told a reporter who visited the Madison restaurant Thursday afternoon no one would comment.
Summers is due back in court March 6 for a preliminary hearing.