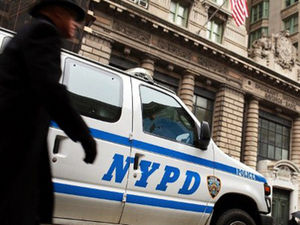 The terrorist attack on the World Trade Center took the lives of 23 NYPD officers who responded to the scene that day.
In the decade since though, the number of cops that have died from cancer is more than double that number, and the link, experts say, is astounding.
Before the 9/11 tragedy, an average of six NYPD cops filed claims for cancer-related disability each year. Around 12,000 men and women were dispatched to Ground Zero on September 11, and a decade down the road, the number of annual cancer claims has nearly tripled. Today there around 16 police officers each year in New York that are applying for cancer-related disability insurance, and the statistic has some saying that it is more than a coincidence.
In all, 297 cops that came to the scene of the September 11 terrorist attack in Lower Manhattan have been diagnosed with cancer since late 2001. 56 of them have passed away from their illnesses and the average age of diagnosis is only 44 years old. Less than half of that number - 23 police officers - were actually killed on the scene at Ground Zero.
The latest numbers come after a just-released study was published out of the Patrolmen's Benevolent Association, and they say that the number of cancer deaths in the last decade is growing in "astronomical numbers."
"Men and women are dying from Sept. 11 exposure and they need to be taken care of," PBA President Patrick Lynch tells 1010 WINS. "On September 11, without question, our members responded and served.Now, they're faced with nothing but questions as to where their cancer came from. It's common sense, young men and women diagnosed with exotic cancers - it came from a toxic cloud on Sept. 11."
Of the nearly 300 cases of cancer claimed by cops that survived 9/11, lung cancer is the most predominant. Others, though, have suffered from rare varieties of the disease, including cancers of the bile duct, tongue and nasal passage. The culprit, they say, was the cloud of debris that filled their lungs as they tried to secure the scene in New York City.
"We sat in the pile and ate, drank water, rested - there was nowhere to go that wasn't contaminated," retired NYPD Officer Edwin Rivera, 55, tells the
New York Post
. "I have cancer that I should never have gotten."
Despite the hundreds of claims, though, officials in New York have come off largely unconcerned during the last decade. Frank Tramontao, a research director at the PBA, adds that "It is our sincere opinion that the City of New York has done nothing to facilitate any cancer study and has been actively working to prevent a comprehensive examination of the issue."
A study last year published by Dr. David Prezant of the New York City Fire Department revealed that firefighters that were exposed to the dust and smoke that came from the collapse of the Twin Towers have a 19 percent higher risk of getting various types of cancer than their peers that were not on the scene. Dr. Prezant studied around 10,000 male firefighters before coming to the determination: "This study clearly shows World Trade Center exposure in these firefighters led to an increase in cancer."
In New York City, firefighters who have incurred illnesses since September 11 are eligible for health screening and financial benefits under the Zadroga Act, named for an officer that died from respiratory disease after 9/11 - except those with claims of cancer, that is.
"The US government would honestly just prefer that they shut up and/or die. And go away," said editorial columnist and author Ted Rall told RT.