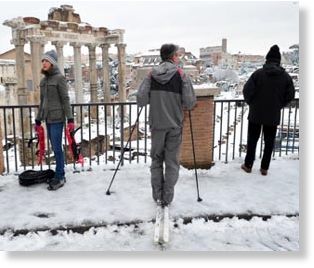 Snow and treacherous black ice caked the streets of the normally mild-weathered Italian capital Sunday, as snowed-in residents warned of food shortages and the cold snap's death toll rose to 17.
Following what was Rome's heaviest snowfall in 27 years, more than 400 members of the armed forces were called in to help clear the ancient city and surrounding areas.
Snow also fell in Milan and areas of northern Italy, and the bitter cold's toll rose to 17 after three homeless people were found dead, including one at Rome's main train station. The bitter cold that has gripped Europe for more than a week has claimed over 300 lives across the continent in total.
Fierce winds knocked over and killed an elderly woman who was walking to mass in Trieste in northern Italy, three men died shovelling snow and a 19-year-old man was killed in Florence when his car skidded off an icy road and into a river.
Large areas of the Lazio and Umbria regions had intermittent or no electricity, water or heating, taxis and buses struggled without snow chains and basic foodstuffs were running out in some areas.
In two towns in the Ciociaria region south of Rome, people cut off without water drank snow melted down in kitchen pots, La Repubblica newspaper said.
Riccardo Santucci from Frosinone told the paper: "We've been abandoned to ourselves, isolated from the world. We've had no water or light for 24 hours. We're warming ourselves by the stove and eating from cans."
As residents resorted to sawing through fallen trees blocking the roads themselves, many people said they had had no assistance from the authorities.
"It's awful. I had to walk two hours through freezing temperatures just to get to the metro," Rome resident Federico Maneski said. "The area is full of trees that have fallen on cars but no one's come to help us."
The chaos in the capital sparked a row between local and governmental authorities, with each blaming the other for the crisis.
Rome's right-wing mayor, Gianni Alemanno, was widely criticised for failing to activate a winter emergency plan, but he said he had been badly informed.
Italy's civil protection agency said it warned Alemanno in advance and even offered assistance, which he turned down. The agency's head said the mayor then called him in desperation after the heavy snowfall on Friday.
As the city shuddered to a halt on Saturday, the mayor's suggestion that Romans should get out on the streets and shovel the snow themselves sparked an angry reaction from incredulous residents and calls for his resignation.
"Snow emergency. Abandon the city. I'm already in Milan!" a fake Alemanno said in a Twitter message that quickly spread online, much to the chagrin of the real mayor, who threatened an investigation and legal action against whoever wrote the Tweet.
"We can and must do more, much more, to anticipate and minimise the consequences," Italy's Prime Minister Mario Monti said.
Meanwhile, the national rail operator faced class actions after hundreds of people spent the night on trains that lost power after electric cables froze. Trenitalia came under fire for severe delays and abandoning passengers in the cold.
Trenitalia issued a statement denying reports that passengers had been stuck on a train in Tivoli for 25 hours, saying they had been put up in a hotel -- but the local mayor, Sandro Gallotti, said the passengers would seek damages.
Consumer associations Federconsumatori and Adusbef also threatened to launch a class action against Trenitalia for "serious inconveniences."
The cold snap is expected to last into the middle of the week at least, and the civil protection agency said it may snow again in Rome on Friday.