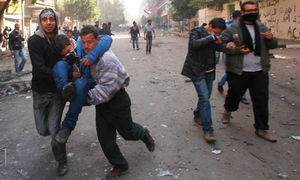 Ten protesters and one security officer killed in Cairo and Suez in aftermath of deadly football violence
At least 11 people have been killed in clashes with Egyptian security forces amid ongoing fallout from the 74 deaths at a football match in Port Said earlier this week.
Five people were killed when hundreds of demonstrators in Cairo clashed with police near the interior ministry on Saturday morning. The protesters are demanding an end to military rule and retribution for those killed in the riots after Wednesday's match.
Abdolheliem Mahmoud, a doctor at a field hospital in Tahrir Square, said Saturday's victims died birdshot to the head or chest during overnight clashes. Another protester was in critical condition.
Demonstrators claimed that
police fired rounds of teargas
into the crowds and field hospitals were set up in streets near the interior ministry to help hundreds of cases of suffocation.
Some protesters chanted for the execution of Field Marshal Mohamed Hussein Tantawi, the head of Egypt's ruling military council, who has been accused of mismanaging the country's transition to democracy.
A security official confirmed that an officer died on Friday after an armoured police vehicle ran him over during the protests outside the ministry.
Also on Friday, security forces in the port city of Suez opened fire on a crowd of several thousand outside the police headquarters, killing five people, a police official said. Egypt's state news agency, Mena, reported that the victims were aged between 18 and 21.
About 2,500 people have been injured in clashes between protesters and security forces in the three days since the football deaths, the health ministry said.
The opposition April 6 movement said it was trying to broker a peace deal between security officers and protesters. It called for the Cabinet to resign and denounced the police for failing to protect people after the football match.
"At the least, this shortcoming [in security] can be described as amounting to complicity," the group said.
There have been accusations that plainclothes officers took part in the riot. Some have alleged that riot police intentionally allowed the violence in Port Said to happen to retaliate against fans of the visiting team Al Ahly, known as ultras, who played a key role in clashes with security forces during the uprising that toppled Hosni Mubarak.