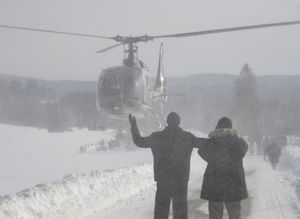 Days of heavy snow has made travel difficult on a number of main roads in Serbia, while a state of emergency has been declared in several areas.
The western town of Prijepolje declared a state of emergency this week, while nearby Nova Varos has been in a state of emergency since January 11. More than 60,000 citizens from Loznica, Ljubovija and Valjevo were without electricity on Thursday.
The Serbia power company EPS said power outages have been periodically occuring in the area around Kraljevo and Nis.
The south of the country has been hit hardest by the severe winter weather.
People in remote villages in the Surdulica municipality lack food and medicine because of impassable roads, while roofs have caved in and trees are falling due to the weight of the snow cover.
In the north of Kosovo, some buses for Belgrade have been cancelled, and traffic is hindered on the main roads in the mountainous areas of Pcinj and Jablanica in the south.
According to the weather bureau, the snowfall is supposed to cease on Friday, but Serbia is looking at a cold wave with temperatures below zero degrees Celsius and high to storm force winds.
Heavy snowfall and icy temperatures have been seen throughout the region this week, with roads and schools closed in Kosovo, and reports of several deaths from the cold weather in Romania.