Professor known as 'Dr. Doom' also predicts joblessness in US will remain high in 2012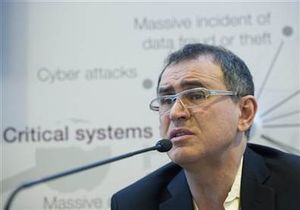 Davos, Switzerland - Economist Nouriel Roubini, nicknamed "Dr. Doom" for his gloomy predictions in the run-up to the financial meltdown four years ago, says the fallout from that crisis could last the rest of this decade.
Roubini, widely acknowledged to have predicted the crash of 2008, sees tough times ahead for the global economy and is warning that
without major policy changes things can still get much worse
.
He also warned that
a conflict with Iran over its controversial nuclear program could lead to a global recession
.
Until Europe radically reforms itself and the
U.S.
gets serious about its own
debt mountain
, Roubini said, the world economy will continue to stumble along to the detriment of large chunks of the world's population who will continue to see their living standards under pressure, even if they have a job.
Meanwhile, International Monetary Fund Managing Director Christine Lagarde - speaking Saturday at the World Economic Forum meeting in Davos, Switzerland - said Europe was making progress to overcome the euro zone crisis, but need to do more to boost its financial firewall to contain the contagion of the debt crisis and restore trust.
"There is work under way. There is progress as we see it," Lagarde told a panel discussion at the World Economic Forum.
"But it is critical that the euro zone members actually develop a clear, simple, firewall that can operate both to limit the contagion and to provide this sort of act of trust in the euro zone so that the financing needs of that zone can actually be met," she said.
She added that there would be need for IMF funds to help the euro zone.
US economy ended 2011 at a healthy pace
Roubini, a professor of economics and international business at New York University, spoke in an interview this week with The Associated Press at a dinner on the sidelines of the meeting, where he is one of the hotly pursued stars.
Looking at economic prospects this year, he agreed with the International Monetary Fund's latest forecast that the global economy is weakening and said he might be "even slightly more bearish" on its prediction of 3.3 percent growth in 2012.
He painted a grim picture of the eurozone in recession and key emerging markets in China, India, Brazil and South Africa slowing down, partly related to weakness in the eurozone.
Roubini predicted that the U.S. economy, the world's largest, will grow by just 1.7-1.8 percent this year, with unemployment remaining high. The government, he added, was "kicking the can down the road" and not taking measures to increase productivity and competitiveness.
"We live in a world where there is still a huge amount of economic and financial fragility," he said. "There is a huge amount of uncertainty - macro, financial, fiscal, sovereign, banking, regulatory, taxation - and there is also geopolitical and political and policy uncertainty."
"There are lots of sources of uncertainty from the eurozone, from the Middle East, from the fact that the U.S. is not tackling its own fiscal problem, from the fact that Chinese growth is unbalanced and unsustainable, relying too much on exports and fixed investments and high savings, and not enough on consumption. So it's a very delicate global economy," Roubini said.
He said the biggest uncertainty is the possibility of a conflict with Iran over its nuclear program that involves Israel, the United States, or both. That could lead oil prices now hovering around $100 a barrel to spike to $150 per barrel, he said, and lead to a global recession.
Almost half of young Spaniards unemployed
Unemployment and economic insecurity have become big issues from the Mideast to the Occupy Wall Street movement in the U.S., and protests from Israel and India to Chile and Russia - and at the same time there is rising inequality between rich and poor.
"All these things lead to political and social instability," he said. "So we have to reduce inequality. We have to give growth to jobs, skills, education, and increase human capital so workers can compete."
Roubini called for a major change in policy priorities.
"We have to shift our investment from things that are less productive like the financial sector and housing and real estate to things that are more productive like our people, our human capital, our structure, our technology, our innovation," he said.
Roubini said slow growth in advanced economies will likely lead to "a U-shaped recovery rather than a typical V," and it may last for another three to five years because of high debt.
"Once you have too much debt in the public and private sector, the painful process could last up to a decade, where economic growth remains weak and anemic and sub-par until we have cleaned up the balance sheet and invested in the things that make us more productive for the future," he said.
Iran warns Europe
On Friday,
Iran warned that it may halt oil exports to Europe next week
in a move calculated to hurt ailing European economies.
The Tehran government - grappling with its own economic crisis under Western trade and banking embargoes
- will host a rare visit on Sunday by U.N. nuclear inspectors for talks that the ruling clergy may hope can relieve diplomatic pressure as they struggle to bolster public support.
Since
the U.N. watchdog lent independent weight in November to the suspicions of Western powers
that Iran is using a nuclear energy program to give itself the ability to build atomic bombs, U.S. and EU sanctions and Iranian threats of reprisal against Gulf shipping lanes have disrupted world oil markets and pushed up prices.
Amid forecasts Iran might be able to build a bomb next year, and with President Barack Obama facing re-election campaign questions on how he can make good on promises - to Americans and to Israel - not to tolerate a nuclear-armed Islamic Republic, a decade of dispute risks accelerating towards the brink of war.
The U.S. Treasury Department said on Friday it would send its undersecretary for terrorism and financial intelligence, David Cohen, to Britain, Germany and Switzerland next week to talk about how to enforce sanctions against Iran's central bank.
Those sanctions aim to starve Iran
of funds for developing nuclear weapons.
Western diplomats see little immediate prospect that renewed talks between Iran and the United Nations' International Atomic Energy Agency [IAEA], scheduled from Sunday to Tuesday in Tehran, would result much in the way of concessions to Western demands.
EU states have given themselves until July to enforce an oil import embargo on Iran.
The EU accounted for 25 percent of Iranian crude oil sales in the third quarter of 2011. But China, India and others have made clear that they are keen to soak up any spare Iranian oil, even as U.S. Treasury measures to choke Tehran's dollar trade make it harder to pay for supplies.
Moayed Hosseini-Sadr, a member of the energy committee in the legislature, said there would be no delay of the kind the EU allowed to its members.
"If the deputies arrive at the conclusion that the Iranian oil exports to Europe must be halted, parliament will not delay a moment," Hosseini-Sadr said. "The Europeans will surely be taken by surprise and will understand the power of Iran."
The Associated Press and Reuters contributed to this report.