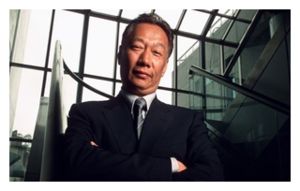 Remember Foxconn? The massive Chinese conglomerate that manufactures products for Amazon, Apple, Microsoft, HP, and many, many other companies. That's right, the one with all
the human rights problems.
Recently, a group of Foxconn workers threatened to commit suicide in response to their abhorrent working conditions - of course, the company has had issues with worker suicides for a while, hence the infamous nets. According to a recent article in the
Want China Times,
the suicides made Hon Hai (Foxconn's parent company) chairman Terry Gou aware that "China is no longer a cheap labor camp where young workers will accept any hardship."
This revelation did not, however, make Gou any more sensitive to the plight of his workers. At a recent year-end party,
he reportedly sought sympathy from his fellow guests over the difficulty he had in managing "one million animals."
Apparently, Foxconn treats its workers like animals because, to the company, that's what they are. Go figure.
Of course, the company is currently facing a bigger issue than terrible PR. As China's population has become more educated, it has been increasingly difficult for the company to maintain its workforce and Gou fears future labor shortages.
Meanwhile, in further bad PR news, this time more for Apple than anyone else,
The New York Times
today ran a story on unsafe working conditions at Foxconn's factories. Among other horrors, the article describes an explosion in a building that polished iPads, whose workers were known by the aluminum dust sparkle in their hair and eyes.
Dust is a safety hazard and can cause explosions if not properly ventilated. A few weeks before the explosion, Apple received a report of unsafe working conditions but did not respond to it. Eventually, the dust buildup caused an explosion that killed four and injured 18.
Apple frequently points to its supplier responsibility reports as proof that it is on top of safety conditions at its factories. However, the aluminum dust explosion is not the first story of unsafe working conditions to emerge from the Foxconn plants. In many cases, it seems that Apple has let profits and productivity get in the way of safety.
Apple pulled in over $13 billion in profits last quarter. However, human rights issues at with its suppliers are getting more and more coverage. Right now, it seems that, even if Foxconn can afford to call its workers animals, Apple can't afford for it to treat them that way.