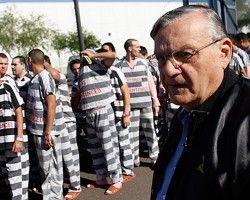 Maricopa County Sheriff Joe Arpaio is unquestionably the most notorious law enforcement official in the country, infamous for his ruthless and illegal treatment of the undocumented immigrants under his charge. He's known for cramming detained immigrants into outdoor "tent cities" he proudly
likens to concentration camps
, and for parading prisoners around in pink underwear to humiliate them.
When the Justice Department
first announced
it was investigating Arpaio in 2008 for racial profiling and civil rights violations, Arpaio said "bring it on." But he refused to cooperate with the investigation, stalling the probe for 17 months by withholding records from federal officials.
Moments ago, the Justice Department
announced the findings
of its three year investigation, concluding that the self-proclaimed "toughest sherrif in America" has indeed committed an extensive array of civil rights violations against Latinos:
The federal government issued a scathing report Thursday that outlines how Maricopa County Sheriff Joe Arpaio's office has committed a wide range of civil rights violations against Latinos, including a pattern of racial profiling and discrimination and carrying out heavy-handed immigration patrols based on racially charged citizen complaints.

The report, obtained by The Associated Press ahead of its release, is a result of the U.S. Justice Department's three-year investigation of Arpaio's office amid complaints of racial profiling and a culture of bias at the agency's top level.

The Justice Department's conclusions in the civil probe mark the federal government's harshest rebuke of a national political fixture who has risen to prominence for his immigration crackdowns and became coveted endorsement among candidates in the GOP presidential field.
In 2010 federal officials filed an
unprecedented suit
against Arpaio for breaking the law by refusing to turn over extensive records related to booking procedures, inmate interpretation services, and arrests. He also would not give investigators access to his staff or jails. A man who relishes brutally enforcing the law acted as if it did not apply to him.
After officials threatened to withhold millions of dollars in federal funding from Maricopa County, "
accusations of mismanagement
forced Arpaio to place three top aides on administrative leave, among them former Chief Deputy David Hendershott."
Arpaio has had a breathtaking
2,700 law suits filed against him
between 2004 and 2007. In addition to the DOJ, he has been investigated by Congress, the FBI and a Federal Grand Jury for civil rights violations and abuse of power. In no small part because of Arpaio's well-documented targeting of people who look foreign but have committed no crime, the majority of inmates in his jails are Latino males.
While Arpaio pursued an obessive, politically motivated assault on immigrants to enhance his national profile, he routinely failed to investigate more pressing cases of violent crime, including
more than 400 sex crimes
. He
ignored dozens of alleged child molestations
with some victims as young as two. Unsurprisingly, many of the children were undocumented immigrants.