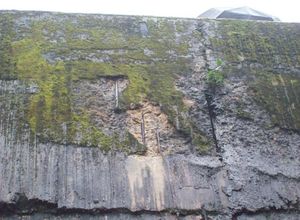 Small cracks appeared at least at three points in the 115-year-old Mullaperiyar dam in Kerala's Idukki district following two minor tremors that occurred early on Friday.
The tremors and cracks have created panic among the people in River Periyar's downstream areas. The district has more than a dozen large and medium-sized dams including Asia's largest arch dam, Idukki.
Officials of the Kerala Water Resources Department said the cracks had appeared in Block 17 and the joint of Block 17 and 18 following the tremors. The tremors also caused water seepage through the cracks from the Mullaperiyar reservoir, situated on the Kerala-Tamil Nadu border. Officials said the cracks were no serious enough to cause panic.
However, a team of experts from the Thiruvananthapuram-based Centre for Earth Science Studies (CESS) would visit the district and the dam on Saturday for on-the-spot evaluations.
The team would be headed by John Mathai, director, Earth Studies, CESS. A minimum of 15 mild tremors have hit the Idukki district, sitting on a faultline, in the past 15 five months.
The first tremor, measuring 2.8 on the Richter scale on Friday had hit the district at 5.26 am and the second - with intensity of 3.4 on the Richter - occurred some 20 minutes later. A 3.8-intensity quake had hit the Idukki region in July last but the strongest tremor occurred in the area in recent past was in December, 2000. It had measured 5.0 on the Richter.
Kerala is arguing for the construction of a new dam at Mullaperiyar so that the now-weakened Surki-concrete dam commissioned in 1896 could be decommissioned.
The existing dam is seen as a serious threat to the lives of over three million people living in four Kerala districts
. People in Vallakadavu near Mullaperiyar said the new cracks were indeed a cause of alarm for them.
Tamil Nadu is drawing the entire water of the Mullaperiyar reservoir for drinking and irrigation purposes in its five southwestern districts giving a lease fee of Rs 40,000 a year to Kerala as per an agreement signed between the then Madras (Tamil Nadu) Government and the King of Travancore (in Kerala) in 1886. The lease pact is valid for 999 years.