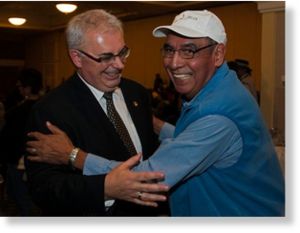 The president of the University of Manitoba has issued a public apology for the university's indirect role in perpetuating the damage caused by Canada's native residential schools.
David Barnard appeared today in Halifax before the federal Truth and Reconciliation Commission.
Barnard says the university failed to challenge the policy of forced assimilation that was central to the 130 residential schools that operated for more than a century.
He says the physical, sexual and emotional abuses that occurred at residential schools were among the most deplorable acts committed at any time in Canada's history.
Barnard says the university played a role in perpetuating the system by educating clergy, teachers, civil servants and politicians who carried out the assimilation policies.
Phil Fontaine, a residential school survivor who is also a former grand chief of the Assembly of First Nations, was on hand to witness the apology.