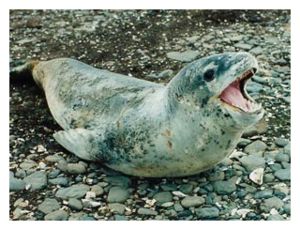 The unusual arrival of a leopard seal at an upmarket Auckland suburb has prompted the Department of Conservation to issue a safety warning.
The two-metre long seal, a native of Antarctica, was spotted on a sea wall at a Herne Bay beach.
A local woman came across the seal yesterday while walking her dog at Home Bay.
A spokesman for DOC said it is rare for a leopard seal to make it as far north as Auckland, as they are usually found along the edge of the Antarctic.
He said he thought it may be the same seal that was sighted at Kawakawa Bay last month.
Leopard seals are larger, and more aggressive, than their New Zealand counterparts and DOC is urging the public to keep away from the visitor.
It is advised that anyone who encounters the leopard seal, or any other seal, stay at least 20 metres away and not disturb them.
While the powerful animals can appear docile on shore if they become agitated they can lunge quickly and powerfully.
Large adult leopard seals have been known to attack humans.
DOC highlighted it is not safe to get between the seal and its access to the water.