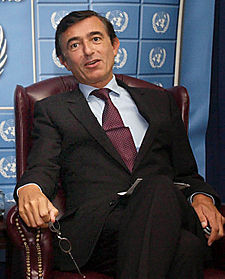 Translation by Sott.net
Luc Ferry, the inadequate and short-lived Minister of Education, played it clever yesterday, stating on television that a Minister of the Republic, who he declined to name, had been "nabbed" a few years back trying to organize orgies with underage boys in Morocco.
Alain Juppe was quite right this morning to say that when one is aware of a crime, one must go to court and not simply make such allusions.
But why then has our Minister of Foreign Affairs not gone himself before the courts to denounce Philippe Douste-Blazy?
Everyone knows - Juppe, Ferry and hundreds of parliamentarians and diplomats - that when he was Minister of Foreign Affairs, Douste-Blazy held a special evening just in his hotel suite at the La Mamounia Marrakech, it had degenerated, the participants at the party had broken everything in the suite and pulled the curtains, the Moroccan police had to intervene, the hotel management had to send the bill to the Quai d'Orsay, and that, in the end, it was the king of Morocco who paid the bill.
For several weeks, Douste was met in the Chamber of the Assembly with chants of "La Mamounia! La Mamounia!"
Everyone knew the tastes of the Foreign Minister, formerly mayor of Lourdes (!) and Toulouse, who did not speak a word of English and confused Taiwan with Thailand.
But there must be limitations because today Douste-Blazy is enjoying the good life at the United Nations. We hope for his sake that he knows that Americans are less sympathetic with certain "leanings" than Moroccans or French.