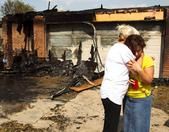 Fires in Bastrop County, Spicewood, Steiner Ranch, Pflugerville, others driven by wind and dry conditions.
In a summer where brush fires have become a near-daily occurrence, firefighting officials said the multiple wildfires that raged across Central Texas on Sunday were the worst the region has seen all year.
Numerous wind-driven fires pushed fire departments to their limits and forced evacuations in Bastrop County, the Steiner Ranch subdivision, Pflugerville, Spicewood and other areas. Scores of residents were left wondering whether they had homes to return to as many of the fires continued to burn Sunday night.
The largest and most destructive fire was in Bastrop County, where a blaze burned 14,000 acres and grew to an estimated 16 miles long by the end of the day, said Mark Stanford, fire chief of the Texas Forest Service.
"It's catastrophic," Stanford said of the Bastrop County fire. "It's a major natural disaster."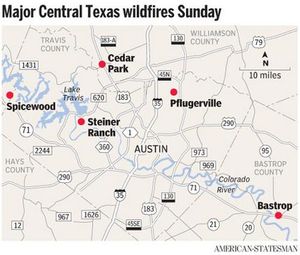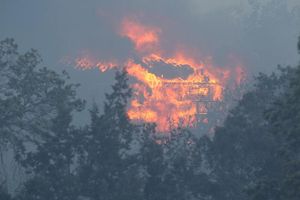 Forest Service spokeswoman Lexi Maxwell said that fire began about 2 p.m. in the Circle D subdivision off Texas 71. It merged with another fire north of there that pushed south and crossed over Texas 21 and Texas 71, Maxwell said. Aerial units estimated that at least 300 homes had been damaged or destroyed by the fire.
Maxwell said another, unrelated fire was reported in the Colony subdivision in Bastrop County, which also forced evacuations.
"This was far and away the most catastrophic day for Central Texas fires," Maxwell said.
Residents in Bastrop County were told to evacuate to Bastrop Middle School, the First Baptist Church in Smithville, Grace Lutheran Church in Smithville and the Smithville Recreation Center.
As of late Sunday , Texas Parks and Wildlife Department personnel and firefighters were fighting to save the historic Depression-era Civilian Conservation Corps structures in Bastrop State Park. A regional office about four miles away on Texas 71 was destroyed, according to department spokesman Mike Cox.
Steiner Ranch
Firefighters battled a blaze in a part of the Steiner Ranch subdivision northwest of Austin that destroyed at least 25 homes and forced hundreds to evacuate. RM 620 was closed in both directions near the subdivision for hours.
Lisa Rux said the sky over the subdivision changed color that afternoon, turning black as smoke filled the air.
"It's raining soot," Rux said.
She said she felt fortunate that most of her family was out of town that day, but she grabbed her dog and got out of the neighborhood as fast as she could. Rux said that the fire there reminded her of the hurricane evacuations she dealt with growing up in Corpus Christi, except this time she was flanked by 50-foot walls of smoke.
One of her neighbors said a house caught fire and exploded when a propane tank went up.
Resident John Zucker fled his home with his wife, two children, dogs and cats. The family packed full two vehicles of personal files, photo albums, laptops and clothes before arriving at Vandegrift High School off RM 2222, which has been set up as a shelter for evacuees.
"It's nerve-racking," Zucker said. "When they first started to report it on the news, our power went out."
Zucker said he received conflicting information from police officials on whether the family should leave the area, and he decided to drive to the school after his wife's mother called from California saying she had heard reports of the fires.
Pflugerville
As of late Sunday, more than 200 acres had burned in Pflugerville, where firefighters had been fighting multiple blazes since the late morning. No fire-related injuries had been reported.
One fire started at Hodde Lane and Cele Road shortly after noon. Residents of the Reserves at Westcreek were evacuated to Hendrickson High School, and by late afternoon, firefighters were still trying to stay ahead of the blaze, which could be seen along Weiss Road. Dozens of people stood outside subdivisions and at Lake Pflugerville Park, staring at the fire off in the distance and taking pictures.
Jennifer Parrish, who lives at the Reserves at Westcreek, evacuated her home about 1 p.m. with her husband and three dogs. She and friends parked at a nearby school for a while, watching the thick smoke in the distance.
"People are just going to relatives' houses and stuff," she said. "I don't know where we're going yet."
Firefighters were able to save the 190-home subdivision, and by early evening, residents were allowed to go back home.
Blazes also destroyed two houses on Pigeon Forge Road in Pflugerville.
Cedar Park
Earlier in the day, a fire in Cedar Park that ignited in a field behind houses on Bois D'Arc Lane destroyed two homes there and damaged at least one more. Fire Chief Chris Connealy said the fire was reported about 11:30 a.m. and contained by 1:45 p.m. About 10 acres burned.
"With the wind conditions and the grass so dry, it ran so quick," Connealy said. "It doesn't take anything to have a catastrophic fire quickly."
The two families who lost their homes, in the 2600 block of Bois D'Arc Lane, were getting help from the Red Cross and a local church.
Joe Pomerening, who lives behind the two Cedar Park homes, was at home with his mother and younger sister when the power went out. He smelled smoke and went outside to see flames from the field jumping across the road and into his yard. He and a neighbor fought the flames with their water hoses. Parts of his yard and the bottoms of his trees were charred.
Spicewood
Another fire broke out in the Pedernales area off Paleface Ranch Road, off Texas 71 in western Travis County. Texas 71 was closed in both directions for hours.
Fire officials had hoped the road would help keep the fire from spreading, but by midafternoon, Westlake Fire Chief Gary Warren, who was helping coordinate resources for several fires burning in Travis County, said the fire already had "jumped across u2026 and is headed toward the lake."
A Travis County STAR Flight helicopter was providing air reconnaissance, he said.
It was unclear how large the fire was late Sunday, but fire officials were estimating the uncontained fire at about 1,000 acres, Warren said.
Elsewhere in Hays County, two neighborhoods were being evacuated late Sunday, said Hays County spokeswoman Laureen Chernow. One was the Stagecoach Ranch subdivision south of Hamilton Pool Road. The other was an area encompassed by Bell Springs Road, Lost Creek Road and Grand Summit Boulevard in Hays County. Evacuees were told to go to Dripping Springs Middle School on Tiger Lane. The Bell Springs evacuation was ended later Sunday.
Hays fire officials said they expected the fire, which was about 400 acres and spanned the Hays-Travis line near Hamilton Pool Road, to rekindle this morning.
Less severe fires were reported in Liberty Hill, Georgetown and Cedar Park on Sunday.
Warnings were there
Local fire officials suspected this weekend would be a dangerous one. On Saturday, the National Weather Service issued a "red flag" warning, which alerts firefighting and land management agencies that conditions are ideal for wildfires.
Central Texas is suffering under the worst drought in decades. And a local cold front was expected to combine with winds from Tropical Storm Lee, causing dry, gusty weather.
And that's exactly what happened. Winds as fast as 46 mph were recorded at Austin-Bergstrom International Airport, according to National Weather Service meteorologist Robert Blaha. In Georgetown, winds reached 38 mph; in San Marcos, 43 mph.
So when the fires started early Sunday afternoon, they just kept coming.
The fires took a tremendous toll on people whose homes were in the path of the blazes. As of late Sunday, Barbara Pereira didn't know whether her home was still standing.
Pereira, who lives on Kelley Road in Circle D in Bastrop County, said the wind had been blowing hard all day at her home. She and her husband, Daniel, had heard sirens throughout the day, she said, but that wasn't unusual. Then they noticed a muffled booming sound.
"Then we heard a huge explosion that shook our house," she said.
There was a huge plume of black smoke coming from the east.
"You could just hear it was a fire," she said.
The Pereiras grabbed their cat, got in separate cars and tried to leave their subdivision. One route was blocked by smoke, another by fire. Finally, they found a way out of their neighborhood and automatically drove to Calvary Baptist Church of Bastrop, where they attend. By 8 p.m., the couple were still at the church with about 20 other residents waiting out the blaze. Pereira wasn't sure where she and her husband would spend the night. But she was relieved to have escaped.
"You get out when you have to get out," she said. "You do what you have to do."