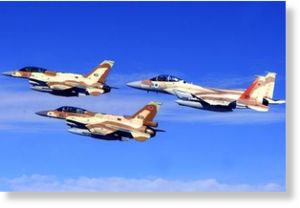 Israeli warplanes have bombed central Gaza Strip, despite a ceasefire agreement between Tel Aviv and the democratically-elected Hamas government in the blockaded territory.
There has been no immediate report of casualties from Gaza following the overnight attack, AFP reported on Tuesday.
On August 22, a ceasefire was agreed to by Hamas and Tel Aviv, but it has not stopped the Israeli regime from launching further deadly airstrikes on the Gaza Strip, leading to more Palestinian casualties.
Israel has increased its attacks on the Palestinian territory in recent months, killing and wounding scores of individuals in the impoverished Gaza.
Hamas has criticized Tel Aviv for violating the January 2009 treaty, which ended the 22-day Israeli war against Gaza.
Hamas also says that it has decided to raise the issue of repeated Israeli violations at the UN, as it gives rise to the "threat of further aggression against the Palestinians."
Since the end of the Gaza war in 2009, a large number of Palestinians have been killed or wounded in Israeli air attacks on the besieged coastal strip. Many Palestinian structures have also been destroyed in the raids.