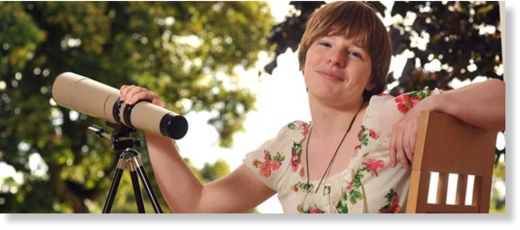 A stargazing schoolgirl made quite an impact on work experience when she discovered 22 new asteroids and a disintegrating comet.
Hannah Blyth, 18, had been chosen to do a summer work placement on the University of Glamorgan's Faulkes Telescope project when she made the remarkable finds.
The St John's College pupil single-handedly discovered two new asteroids, and together with astronomer Nick Howes and two of the world's leading comet and asteroid imagers, Giovanni Sostero and Ernesto Guido, discovered 20 others - not to mention the comet.
"I was not really expecting to be involved with the asteroids, never mind expecting to find new ones - and it was quite a rush, to tell the truth," said Hannah, from Castleton, who is hoping for a career in science.
"It was an extremely exciting moment when we discovered the asteroids, and something to remember. I'm very proud of the fact that I was part of something like that, I had a lot of fun."
She was encouraged by her biology teacher to go on the funded placement as part of a programme by the Nuffield Foundation, working with the team in charge of the Faulkes Telescope project.
The robotic telescope, based on the Hawaiian island of Maui and in Australia, is operated remotely from computers, and Hannah shared her remarkable discoveries with the rest of the team via Twitter.
"As soon as we saw the images, we knew something had kicked off in the comet's tail," said Mr Howes.
"We were frantically communicating with each other over Twitter, e-mail and Facebook, just staggered with the huge fragment we were seeing drifting back along the comet's tail."
The university said that it was "highly unusual" for an amateur to discover such phenomena on their own, and "even more remarkable" for a schoolgirl.
It follows on from Irish comedian Dara O'Briain sparking a Twitter stargazing debate after operating the telescopes remotely from London after tweeting with Dr Edward Gomez, from Cardiff University, who is also involved with the Las Cumbres Observatory Global Telescope Network.
"This project, which we decided to squeeze in to the normally quiet summer months when the telescopes are not being used by schools, has been an amazing success", says Dr Paul Roche, head of astronomy at Glamorgan and space ambassador for Wales.
"We had hoped to find maybe one or two new asteroids, but Nick, Giovanni and Ernesto have turned up far more than that already, and Hannah's observations of the comet fragmentation are really the icing on the cake."