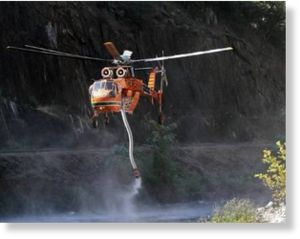 A rapidly moving wildfire grew on Saturday to about 3,600 acres west of one of the main entrances to Yosemite National Park, prompting voluntary evacuations of the Cedar Lodge hotel, campgrounds and a handful of homes in the Merced River canyon.
Highway 140 - a main entrance into Yosemite - remained closed west of the Foresta Bridge and east of Mariposa because of the fire. Fire officials said they do not know when it will be reopened. Highways 41 and 120 leading into the park were still open.
All park visitor services were unaffected by the fire, officials said.
The blaze, dubbed the Motor fire, was moving rapidly in Dry Gulch Canyon into the upper reaches of Moss Canyon, the U.S. Forest Service said. With containment at 15 percent, fire officials say it will take days to extinguish the blaze.
A motor home that caught fire on Highway 140 on Thursday afternoon sparked the blaze that raced up both sides of the canyon.
Junior Sanchez, a beer truck driver from Newman, said he and his co-worker had finished making deliveries Thursday to Yosemite National Park and were westbound on Highway 140 toward Modesto when they saw the motor home about five vehicles ahead of them catch fire.
Sanchez said he saw the motor home stop in the road and people spill out of it. They were able to unhook a small car they were pulling before the motor home became engulfed in flames, Sanchez said.
He said the motor home's propane and gas tanks appeared to burst and that ignited brush alongside the roadway within two to three minutes after the motor home stopped.
"Within five minutes, the whole thing was on fire," Sanchez said.
The fire the started climbing up the canyon and "we could hear the crackling of leaves burning," he said.
Forest rangers quickly arrived and told Sanchez, his co-worker, Miguel Ayala, and other drivers to leave the area, Sanchez said.
"When it started, we didn't think it would get this big," Sanchez said Friday.
Cedar Lodge, Incline and local Merced River canyon campgrounds were voluntarily evacuated, while people in the areas of Rancheria, Old El Portal and Yosemite West have been advised to prepare for evacuations, the Forest Service said.
Air tankers, helicopters, bulldozers and hotshot crews joined the fight, the Forest Service said. As many as 1,162 firefighting personnel were working the blaze at one point Friday, officials said.