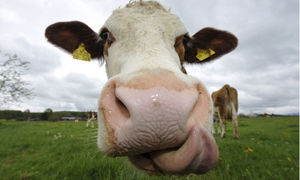 Fugitive from slaughterhouse continues to outwit her would-be rescuers, who are battling to prevent hunters shooting the animal
Three months after Yvonne went on the run, the hunt for Germany's most famous fugitive is heating up after a search party discovered a sign of her wanderings - a field littered with cowpats.
Yvonne, a six-year-old dairy cow, escaped from a Bavarian farm in May days before she was due to be slaughtered.
When the local authorities in Mühldorf gave hunters permission to shoot her on sight, animal rights activists waded in.
Gut Aiderbichl, an animal sanctuary in Austria, paid Yvonne's owner €600 (£530), vowing to bring the cow to safety before she was knocked down by a Bavarian bullet.
Her whereabouts have now become a national obsession in Germany, with one tabloid offering a reward of €10,000 for her safe return.
Her story has spread across the world. On Wednesday Gut Aiderbichl said it had had media inquiries from Abu Dhabi and South Africa, where a psychic claimed to have communicated with her. Indians had been stressing Yvonne's holiness.
Despite the publicity, Yvonne remains at large. An animal whisperer from Switzerland failed to coax her back from the Bavarian forest using telepathy; Ernst, the bull with a "deep baritone moo" and manly musk, also proved strangely resistible.
The plan for Friesi, Yvonne's "long-lost" two-year-old son, to be deployed as an inducement has yet to be put into action: he is still being briefed on his special role (tugging at Mum's heartstrings).
Last week a local radio station leased a helicopter equipped with a heat-seeking camera to fly over the woods where Yvonne is believed to be hiding, but reported that she ran away "nimble as a weasel" when they hovered overhead.
This week the Gut Aiderbichl search party spotted some vital clues, including cowpats created, they swear, by Yvonne. A hunter claimed that in the early hours of Monday he came face-to-face with Yvonne, Michael Aufhauser, who runs Gut Aiderbichl, reported.
"He told us he looked into her eyes and she looked back like a wild animal, not a dairy cow," said Aufhauser.
The hunter was not allowed to shoot Yvonne because Gut Aiderbichl had been granted an injunction which made it temporarily illegal to kill her.
The latest injunction is due to expire on Sunday, though Aufhauser is confident it will be extended.
"Right now we are just waiting for her," he said. "Maybe she will come to us in an hour, maybe days or weeks. But we will stay for as long as it takes."